Revived constructor Tiga could make sportscars return in LMP2
| | |
| --- | --- |
| By Gary Watkins | Thursday, June 27th 2013, 10:14 GMT |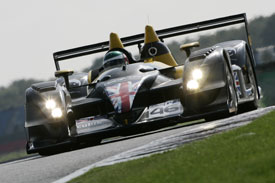 Revived British racing car constructor Tiga could return to international sportscar racing next season.
New Tiga owner Mike Newton, a two-time LMP2 class winner at the Le Mans 24 Hours, has purchased the assets of Team WFR, which include its WF01 P2 prototypes of 2008-09 vintage.
Newton explained that Tiga, which he has now taken full control of following its 2012 relaunch, was planning to continue development of the cars that initially competed under the Embassy Racing banner (pictured) and then rehomologate them as Tigas to the latest cost-capped LMP2 rules.
"We will do some evaluation work and test the car," he said. "We believe we can update the design to be a competitive cost-capped P2 car, which would be an attractive proposition for customers.
"We are not committed to a programme yet and we know it is a tough market, but we think there is room for the car, particularly in the US."
Tiga has also taken over the Team WFR Group CN prototype desing known as the WF03. It plans to rebadge the car and could race it as early as next month's Brands Hatch round of the SPEED EuroSeries.
Newton helped relaunch Tiga Race Cars as a constructor in the CN category with a re-engineered version of an early-2000s Chiron chassis. The company is also offering a full inventory of spares for Tiga's Sports 2000 and Group C designs.
Tiga was started by former grand prix drivers Howden Ganley and Tim Schenken in 1975. More than 400 single-seaters and sportcars were built before the company closed its doors in 1989.
DID YOU KNOW?
Tiga has won a world championship. The Spice Engineering team and drivers Gordon Spice and Ray Bellm took Group C2 honours in the 1985 World Endurance Championship.