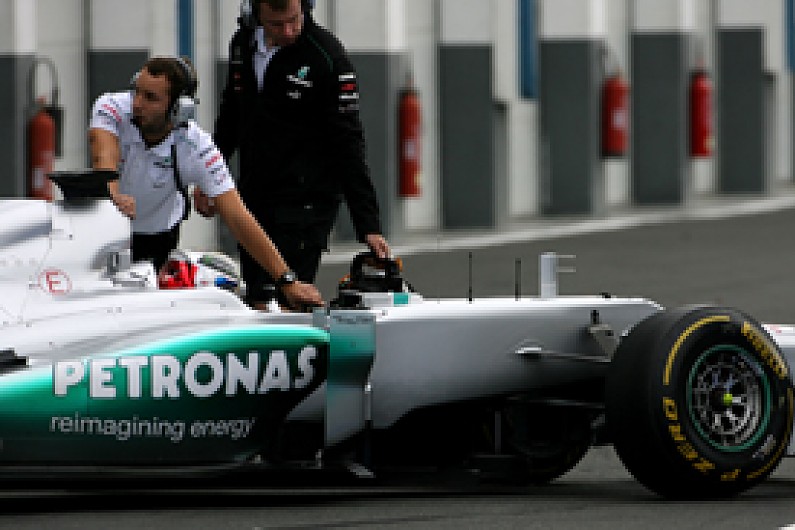 Mercedes boss Ross Brawn says his team's development programme for the rest of the season will be hampered by having to miss Formula 1's young driver test.
Although rival teams have suggested that the punishment handed out to Mercedes for using a 2013 car in a Pirelli tyre test is too lenient, Brawn insists that the young driver test ban will hurt.
"We've been looking at the consequences of us missing the young driver test, because we had a pretty comprehensive technical programme planned," Brawn said in an exclusive interview with AUTOSPORT.
"We are now looking internally at how to recover the loss of the programme, and I am not sure we will. Some of the things we wanted to do are just not feasible over a race weekend, so there will be a tangible loss to the team in not doing the young driver test.
"It is unfortunate the spin that some teams are putting on it that the punishment is not significant."
Although the young driver test was originally conceived as a way of bringing on future talent in a post-season run, its shift to the middle of the campaign has meant teams now use it for a proper technical programme of new parts.
Last year, teams like Lotus were able to try out concepts like the passive DRS - while McLaren made no secret that the 2012 Abu Dhabi test was being used to help improve the car.
PENALTY IS 'SEVERE'
Brawn disagrees that losing a young driver test with Sam Bird is negligible compared to having his team's race drivers conducting a test wholly for Pirelli.
"The penalty is pretty severe," he said. "We provided services for Pirelli to do a 1000km test - which could have been done over two days but was spread out because of the weather.
"We tested 12 sets of development tyres, none of which will be used in 2013 or 2014. Anyone who has done tyre tests, with short runs, and long runs, knows there is no spare capacity for anything else. You are just doing tyre testing.
"The young driver test itself is a slight misnomer. The original intent was to promote young drivers, but people don't do that.
"Teams will be doing 1500 km of proper car testing, with full developments, running all the equipment, systems, and new parts on the car you need to acquire information.
"The other good thing about Silverstone is it would have been a continuation of any work done at the race, so that would have been helpful too. I think we have got a very tangible loss.
"It is a different league quite frankly to have a three-day test, over 1500 km, with new parts, with race tyres that are those we race.
"So to downgrade the test to make it like it is not significant is not correct, and just an attempt by teams concerned to distort the facts."
MERCEDES GOOD FAITH KEY TO SANCTION
Brawn thinks it wholly incorrect of rival teams to suggest that his outfit got away with just a rap over the knuckles and thinks the penalty applied was the fairest one considering his outfit acted in good faith.
"I think it is a disingenuous to compare the young driver test to a team dinner at the end of the year," said Brawn, in reference to comments made by Ferrari's Horse Whisperer column.
"This is a meaningful penalty and you have to look at what the tribunal established. We acted in good faith and didn't intend to gain sporting advantage. What evolved wasn't a malicious act."
New season.
New rules.
New cars.
New drivers.
Get ready for an F1 season like no other with unlimited access to the world's best motorsport journalism.
Get 10 free extra stories
Upgrade for free - and boost your monthly news limit instantly.
Register for free
Expert opinion.
Technical insight.
Unbeatable analysis.