LM24 H7: Benoit Treluyer's leading Audi hits trouble, Duval leads
| | |
| --- | --- |
| By Sam Tremayne | Saturday, June 22nd 2013, 20:15 GMT |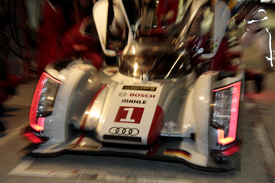 Audi's stranglehold on the Le Mans 24 Hours finally broke in the race's seventh hour, as its lead #1 R18 and the sister #3 e-tron quattros both hit problems.
Loic Duval now leads the race in the German manufacturer's #2 machine, but Toyota's two TS030s occupy second and third, both of them moving to within three minutes of the outright lead.
The pattern of the race swung dramatically in the final 20 minutes of the hour, as leader Benoit Treluyer headed in for his ninth stop of the race.
Problems pulling away meant he lost around 30s to the field, but worse was to come as he headed straight back in and was wheeled into the Audi garage, with problems that were quickly traced to a motor generator in the car.
Ten minutes of frantic activity failed to put last year's winners back on track, with the #1 Audi ending the seventh hour sixth - and falling as it sat in the pits - four laps behind Duval.
At the same time Oliver Jarvis also hit problems when contact coming through traffic led to a right-rear puncture that caused him to spin at the Dunlop chicane.
The carcass fell away as he fought his way back onto the circuit, and he was forced to limp through the remainder of the lap back to the pits. Amazingly no repairs were needed and, after a stop for fuel and tyres, co-driver Marc Gene resumed in fourth overall.
Audi's drama was Toyota's gain, with Stephane Sarrazin - taking over from Sebastien Buemi in the #8 TS030 HYBRID - now second.
Kazuki Nakajima meanwhile took over in the sister #7 car and sits third, 55s down on Sarrazin.
John Martin continues to lead LMP2 in the #26 G-Drive/Delta-ADR ORECA-Nissan, ahead of Bertrand Baguette in the #35 OAK Morgan-Nissan and Simon Dolan in the #38 Jota Zytek-Nissan.
Behind them a four-way fight for fourth raged for much of the hour, with Pierre Kaffer in the #49 Pecom ORECA-Nissan ending the seventh hour on top.
Jann Mardenborough remains in the hunt despite a late off when he clouted the kerbs exiting the second Mulsanne chicane, his Greaves Zytek-Nissan becoming briefly airborne.
Bruno Senna managed to distance himself from the chasing pack in GTE Pro, ekeing out a 7s advantage in the #99 Aston Martin.
Richard Lietz meanwhile moved his #92 Manthey-run works Porsche into second, passing Peter Dumbreck in the #97 Aston.
Dumbreck continues to hound Lietz, with just over 4s separating the pair.
World Touring Car racer Darryl O'Young meanwhile took over at the front of the GTE Am field, the driver of the #55 AF Corse Ferrari driver building a 30s advantage over the chasing #76 Imsa Porsche.
POSITIONS AFTER 7 HOURS

Pos Cl      Car       Drivers                         Laps  Gap
 1. P1  #2  Audi      Kristensen/McNish/Duval         104   
 2. P1  #8  Toyota    Davidson/Sarrazin/Buemi         104   + 3m05.463s
 3. P1  #7  Toyota    Wurz/Lapierre/Nakajima          103   +     1 Lap
 4. P1  #3  Audi      Gene/Jarvis/di Grassi           103   +   54.275s
 5. P1  #13 Lola      Beche/Belicchi/Cheng            101   +    3 Laps
 6. P1  #21 HPD       Leventis/Kane/Watts             101   + 2m21.461s
 7. P1  #1  Audi      Lotterer/Treluyer/Fassler       100   +    4 Laps
 8. P1  #12 Lola      Prost/Jani/Heidfeld             100   + 13m01.152s
 9. P2  #26 Oreca     Rusinov/Martin/Conway           98    +    6 Laps
10. P2  #35 Morgan    Baguette/Plowman/Gonzalez       98    + 1m24.499s
11. P2  #38 Zytek     Dolan/Turvey/Luhr               98    + 2m45.552s
12. P2  #49 Oreca     P-Companc/Kaffer/Minassian      97    +    7 Laps
13. P2  #46 Oreca     Thiriet/Badey/Martin            97    +    3.134s
14. P2  #24 Morgan    Pla/Brundle/H Hansson           97    +   22.775s
15. P2  #42 Zytek     Krumm/Mardenborough/Ordonez     97    +   24.343s
16. P2  #34 Oreca     Frey/Niederhauser/Bleekemolen   96    +    8 Laps
17. P2  #43 Morgan    Gachnang/Mailleux/Lombard       96    +   23.005s
18. P2  #32 Lotus     Holzer/Kraihamer/Charouz        96    + 1m39.550s
19. P2  #33 HPD       Tucker/Franchitti/Briscoe       95    +    9 Laps
20. GTP #99 Aston     Makowiecki/Senna/Bell           95    +   25.137s
21. GTP #92 Porsche   Lieb/Richard Lietz/Dumas        95    +   37.003s
22. GTP #97 Aston     Mucke/Turner/Dumbreck           94    +   10 Laps
23. GTP #91 Porsche   Bergmeister/Pilet/Bernhard      94    + 2m17.754s
24. P2  #47 Morgan    Imperatori/Howson/Tung          93    +   11 Laps
25. P2  #30 Lola      Mowlem/Burgess/Hirschi          93    + 1m31.643s
26. GTP #71 Ferrari   Beretta/Kobayashi/Vilander      93    + 2m52.333s
27. GTP #51 Ferrari   Bruni/Fisichella/Malucelli      93    + 3m01.251s
28. GTP #74 Corvette  Gavin/Milner/Westbrook          93    + 3m05.731s
29. GTP #73 Corvette  Garcia/Magnussen/Taylor         93    + 3m08.736s
30. P2  #48 Oreca     Hartley/Chandhok/Patterson      93    + 3m16.625s
31. GTP #98 Aston     Dalla Lana/Lamy/Auberlen        93    + 3m20.257s
32. P2  #45 Morgan    Nicolet/Merlin/Mondolot         92    +   12 Laps
33. P2  #41 Zytek     Rossi/K-Smith/Lux               92    +   40.831s
34. GTA #88 Porsche   Ried/Roda/Ruberti               91    +   13 Laps
35. GTA #55 Ferrari   Perazzini/O'Young/Case          91    +   47.818s
36. GTA #76 Porsche   Narac/Vernay/Bourret            91    + 1m06.724s
37. GTA #77 Porsche   Dempsey/Foster/Long             91    + 1m37.082s
38. GTP #93 SRT       Wittmer/Kendall/Bomarito        91    + 1m42.232s
39. GTP #53 SRT       Farnbacher/Goossens/Dalziel     90    +   14 Laps
40. GTA #61 Ferrari   Gerber/Griffin/Cioci            90    +   40.189s
41. GTA #50 Corvette  Bornhauser/Canal/Taylor         90    +   59.372s
42. P2  #40 Oreca     Dagoneau/Downs/Younessi         90    + 1m13.891s
43. GTA #67 Porsche   Gibon/Milesi/Henzler            90    + 2m27.906s
44. GTA #75 Porsche   Collard/Perrodo/Crubile         89    +   15 Laps
45. GTA #96 Aston     Goethe/Campbell-Walter/Hall     89    + 1m20.365s
46. P2  #25 Oreca     Graves/Hamilton/Nakano          89    + 1m23.700s
47. P2  #36 Alpine    Ragues/Panciatici/Gommendy      89    + 2m24.501s
48. GTP #66 Ferrari   Bertolini/Faisal/Qubaisi        89    + 3m02.026s
49. P2  #39 Lola      Porta/Brandela/Raffin           88    +   16 Laps
50. GTA #70 Corvette  MacNeil/Rodrigues/Dumas         88    + 3m00.481s
51. GTA #57 Ferrari   Krohn/Jonsson/Mediani           87    +   17 Laps
52. GTA #54 Ferrari   Mallegol/Bachelier/Blank        85    +   19 Laps
53. GTA #81 Ferrari   Potolicchio/Aguas/Bright        80    +   24 Laps
54. P2  #28 Lola      Giroix/Haezebrouck/Ihara        20    +   84 Laps
55. P2  #31 Lotus     Weeda/Rossiter/Bouchut          17        Retired
56. GTA #95 Aston     Simonsen/Nygaard/Poulsen        2         Retired