Le Mans 24 Hours: Aston Martin uncertain of race set-up
| | |
| --- | --- |
| By Sam Tremayne | Saturday, June 22nd 2013, 10:39 GMT |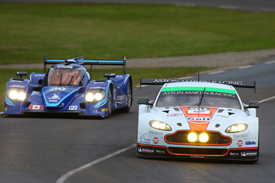 Aston Martin will head into the 81st Le Mans 24 Hours with lingering uncertainty about its set-up, tyre life and ability to stretch fuel, according to Frederic Makowiecki.
The British manufacturer, which is celebrating its centenary this year, dominated qualifying in the GTE Pro class, with Makowiecki claiming pole in the #99 factory Vantage ahead of stable-mate Stefan Mucke.
The Frenchman says the team's performance reflected its confidence in qualifying trim, but said changeable weather conditions and a lack of track time means it still has areas of uncertainty about its race configuration.
"The biggest problem has been the conditions," Makowiecki, who shares his car with Rob Bell and Bruno Senna, told AUTOSPORT. "We are not 100 per cent sure about our set-up decisions because we have not had stable conditions since the test.
"Our engineers found a good solution for qualifying, so we're pretty confident, but we still have a lot of questions - about the tyres, the set-up, fuel.
"We spent the warm-up confirming two or three directions for the set-up. It was not important to do a time, it was important to confirm some ideas.
"Put it like this: we are sure of our choices, but not the track conditions - so maybe if the conditions are different, we could struggle.
"For example with the conditions, we don't know exactly how many laps we will be able to do between stops; we have a really good idea, but there's still some uncertainty.
"It also depends on the performance of everyone else - if we have to push, it will be close to impossible to do 15 laps [per stint].
Makowiecki insisted that his own desire to triumph at Le Mans will play second fiddle to the overall goal of having an Aston Martin on the top step of the class podium.
"The goal is for one Aston to win the race," he said.
"I'd prefer it to be our car, of course, but the most important is for one car to win on Aston Martin's centenary.
"It's not diplomatic: we work for one factory, and we all work together for one result. If one cars wins, a small part of everybody on the team contributed."
He added that he still sees Corvette Racing's pair of cars as the main threat, even though the team admitted it was struggling to understand its four-second qualifying deficit.
"Honestly, Corvette is a little bit behind but they are not so far, they have a lot of experience and it's not always the fastest car who wins," he said.
"I'm not worried for them, because they're a very strong team.
"I would like them at the same level as us, because four manufacturers fighting it out will make for an incredible race."