NASCAR Michigan: Carl Edwards takes pole in Cup qualifying
| | |
| --- | --- |
| | Friday, June 14th 2013, 21:17 GMT |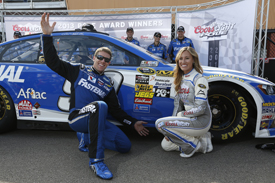 Carl Edwards took pole position for this weekend's NASCAR Sprint Cup race at Michigan.
The Roush Fenway driver set his lap of 35.564s (202.452mph) early in the session, as he was the sixth of 44 cars to run.
For a while it seemed as if Edwards would have a relatively straightforward wait to be declared the polesitter as it appeared he had enjoyed the best of the track conditions, with only Kasey Kahne getting near his time in the cars that followed.
However, Paul Menard offered a hint that the track was still quick when he went third, behind Kahne, in the closing stages, and attention then turned to Furniture Row's Kurt Busch, who was one of the last to run.
Busch ended up missing out by one tenth of a second, but he did enough to join Edwards on the front row at the expense of Kahne.
Menard's lap was eventually good enough for fourth, while Aric Almirola and Joey Logano will share row three on the grid.
Next up was Nationwide Series frontrunner Austin Dillon, making his fifth Cup start of the season for Richard Childress Racing, while behind him Matt Kenseth, Kyle Busch and Juan Pablo Montoya completed the top 10.
Pos  Driver              Team/Car                     Time     Gap
 1.  Carl Edwards        Roush Fenway Ford            35.564s
 2.  Kurt Busch          Furniture Row Chevrolet      35.665s  + 0.101s
 3.  Kasey Kahne         Hendrick Chevrolet           35.783s  + 0.219s
 4.  Paul Menard         Childress Chevrolet          35.856s  + 0.292s
 5.  Aric Almirola       Petty Ford                   35.863s  + 0.299s
 6.  Joey Logano         Penske Ford                  35.870s  + 0.306s
 7.  Austin Dillon       Childress Chevrolet          35.887s  + 0.323s
 8.  Matt Kenseth        Joe Gibbs Toyota             35.898s  + 0.334s
 9.  Kyle Busch          Joe Gibbs Toyota             35.918s  + 0.354s
10.  Juan Pablo Montoya  Earnhardt Ganassi Chevrolet  35.920s  + 0.356s
11.  Denny Hamlin        Joe Gibbs Toyota             35.927s  + 0.363s
12.  Dale Earnhardt Jr   Hendrick Chevrolet           35.982s  + 0.418s
13.  Martin Truex Jr     Waltrip Toyota               35.991s  + 0.427s
14.  Tony Stewart        Stewart-Haas Chevrolet       36.038s  + 0.474s
15.  Ricky Stenhouse Jr  Roush Fenway Ford            36.043s  + 0.479s
16.  Brad Keselowski     Penske Ford                  36.045s  + 0.481s
17.  Jimmie Johnson      Hendrick Chevrolet           36.056s  + 0.492s
18.  Jeff Burton         Childress Chevrolet          36.062s  + 0.498s
19.  Greg Biffle         Roush Fenway Ford            36.112s  + 0.548s
20.  Bobby Labonte       Phoenix Chevrolet            36.116s  + 0.552s
21.  Kevin Harvick       Childress Chevrolet          36.139s  + 0.575s
22.  Mark Martin         Waltrip Toyota               36.142s  + 0.578s
23.  Marcos Ambrose      Petty Ford                   36.237s  + 0.673s
24.  Casey Mears         Germain Ford                 36.255s  + 0.691s
25.  Trevor Bayne        Wood Brothers Ford           36.285s  + 0.721s
26.  David Gilliland     Front Row Ford               36.297s  + 0.733s
27.  Clint Bowyer        Waltrip Toyota               36.310s  + 0.746s
28.  Jamie McMurray      Earnhardt Ganassi Chevrolet  36.349s  + 0.785s
29.  Jeff Gordon         Hendrick Chevrolet           36.378s  + 0.814s
30.  Michael McDowell    Parsons Ford                 36.508s  + 0.944s
31.  David Ragan         Front Row Ford               36.583s  + 1.019s
32.  AJ Allmendinger     JTG Daugherty Toyota         36.587s  + 1.023s
33.  David Reutimann     BK Toyota                    36.683s  + 1.119s
34.  David Stremme       Swan Toyota                  36.685s  + 1.121s
35.  Ryan Newman         Stewart-Haas Chevrolet       36.784s  + 1.220s
36.  Dave Blaney         Baldwin Chevrolet            36.826s  + 1.262s
37.  Danica Patrick      Stewart-Haas Chevrolet       36.942s  + 1.378s
38.  Josh Wise           Front Row Ford               37.131s  + 1.567s
39.  Ken Schrader        FAS Lane Ford                37.288s  + 1.724s
40.  JJ Yeley            Baldwin Chevrolet            37.313s  + 1.749s
41.  Travis Kvapil       BK Toyota                    37.338s  + 1.774s
42.  Joe Nemechek        NEMCO Toyota                 37.502s  + 1.938s
43.  Mike Bliss          Humphrey Smith Toyota        38.472s  + 2.908s