Canadian GP: Button doubts he had top-10 pace
| | |
| --- | --- |
| By Matt Beer | Saturday, June 8th 2013, 18:51 GMT |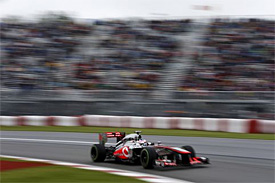 Jenson Button doubts McLaren would have been fast enough for the top 10 even if he had not mistimed his final Q2 run in Canadian Grand Prix qualifying.
Button crossed the line too late to go for another flying lap in the rush after the Q2 red flag for Felipe Massa's crash.
That left him down in 14th on the grid.
"The team counted me down and I thought 10 seconds was enough, but obviously it wasn't," said Button.
"I'm not sure it would have been quick enough anyway.
"But also it was one of those sessions where sometimes it all falls into place in terms of traffic and getting a lap in before the rain, and sometimes it doesn't.
"Every time we tried to go for a lap there was a red flag or yellow flag or more rain. It just didn't go our way."
On Friday Button had cited rain as McLaren's best chance of Montreal success, so was surprised to struggle for pace in wet qualifying.
"We're not good in wet conditions it seems," he said. "I thought we would be. But we were running quite low downforce and maybe that was a mistake."
His team-mate Sergio Perez also dropped out in Q2, qualifying 12th.
The Mexican was more optimistic about McLaren's pace, adamant that only the red flag denied him a top-10 place.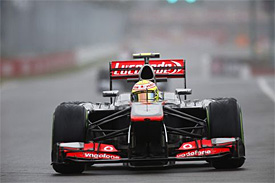 "The luck was not with us today," said Perez. "When the red flag came I was already in the last chicane ready to complete a super lap and to go easily into Q3.
"And then in my last attempt I had too much traffic and I couldn't bring the tyres up to temperature.
"It's a shame because I think we had the pace, even though we focused on the race, so we should be in a good position.
"It's not over. We know tomorrow we can score good points."