Boullier wants Pirelli discussions over tyre testing row
| | |
| --- | --- |
| By Jonathan Noble | Friday, June 7th 2013, 14:39 GMT |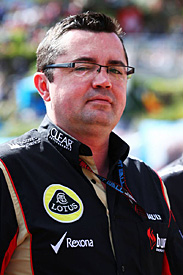 Formula 1 teams need to sit down with Pirelli and sort out a way of ensuring that all outfits are treated equally in the wake of the Mercedes secret test controversy, reckons Lotus boss Eric Boullier.
Mercedes is due to face an FIA International Tribunal hearing to answer charges that it may have breached F1's rules by running its 2013 car in a recent test it conducted for Pirelli at Barcelona.
While Boullier has faith that the FIA will ensure that any rules breach is punished, he thinks that there also needs to be some discussions with Pirelli about how to move forward.
He thinks the fact that teams only found out about a test Pirelli did with a 2011 Ferrari at the same time as news of the Mercedes run emerged highlights the fact that the F1's tyre supplier needs to improve its communication.
When asked by AUTOSPORT if he was comfortable with the Ferrari test, Boullier said: "They [Ferrari] are not in breach. They respected the regulation, and if you do that, then fine.
"With Pirelli it's different because they are supposed to be fair and treat everybody equally, which is maybe borderline with their contractual agreement.
"We maybe need to sit down again and remind everybody of their needs of the agreement."
Boullier suggested that even though Ferrari used a 2011 car in the test, it will still have gained some understanding of tyres, which is why it is important that Pirelli offers equal opportunities to all teams.
"They will know perfectly their 2011 car, so by extrapolating and comparing you get some knowledge of the tyres, definitely," he said. "This is why I'm saying we are borderline on fairness."
Boullier added that he believed the Mercedes issue was a significant one for F1, because it involved what appears to be a clear breach of the rules.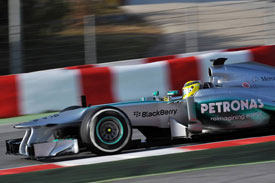 "For me it's a big one if it's true. If there is a breach somewhere then this is a big issue for me," he said.
"Testing is banned. You have a sporting code and a testing agreement signed by all the teams, so for me it's even worse.
"Clearly, testing today is key in some way. Limited mileage forces you to change the process you design your car, the process you race in.
"The performance for many years was just aero, aero, aero, aero. Now for the first time now you need aero, but you need to consider the management of the tyres to make your weekend a success.
"So by doing testing you have a serious gain of the understanding of the tyres, and that's something which is not fair."