Oriol Servia to drive for Panther in IndyCar Texas and Iowa races
| | |
| --- | --- |
| By Pablo Elizalde | Wednesday, June 5th 2013, 16:19 GMT |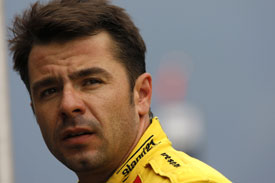 Oriol Servia will drive for Panther Racing in the Texas Motor Speedway IndyCar race this weekend, the team has announced.
Servia missed the Detroit race last weekend after his Panther DRR team decided to withdraw from the series following the Indianapolis 500.
Although the Spanish driver was linked with a seat for Detroit, it was Ryan Briscoe who secured the drive in the #4 car previously occupied by JR Hildebrand.
Briscoe had a DNF and a 13th-place finish as his results in the first IndyCar double-header.
Panther has announced Servia will race at Texas and later this month at Iowa.
The team said it does not expect to hire a full-time replacement for the #4 car, adding that "several drivers could have an opportunity in 2013."
"I couldn't be more excited about this opportunity," Servia said. "Firstly, it's a job, but it's with a team that I've been working with very closely with for the last year.
"Not only do I know everybody that works there, but I know the potential for the National Guard car and the performance we've had will give us a chance to win.
"I hope this relationship extends for many races and many seasons, but right now I just want to do the best job I can and hopefully we'll have a great result."
Panther said Briscoe was under consideration to compete in more races this year.
"The biggest thing we want to accomplish the rest of this season is having a clear direction on who will be the driver of the #4 car in 2014," Panther managing partner John Barnes said.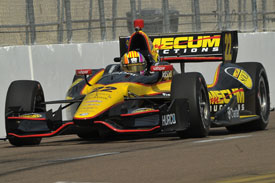 "We're going to take full advantage of the opening we have here to determine what is in the best interest of the National Guard and Panther Racing's long-term future.
"With limited off-season testing this is a great chance for us to get familiar with several drivers in a true race weekend scenario.
"We think the world of Servia, and we couldn't have been happier with Ryan Briscoe last weekend in Detroit, but there may be a few others who will have a run in our car before the season ends."