Dreyer & Reinbold confirms it will withdraw after Indy 500
| | |
| --- | --- |
| By Mark Glendenning | Thursday, May 2nd 2013, 07:24 GMT |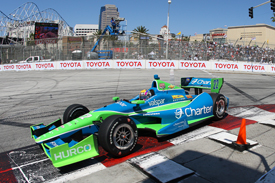 Dreyer & Reinbold Racing, also known as Panther DRR, has confirmed its intention to withdraw from the 2013 IndyCar season after the Indianapolis 500 due to a lack of funds.
The team's financial difficulties were revealed earlier this week, when team owner Robbie Buhl told AUTOSPORT that DRR hoped to find the backing to make occasional appearances later in the year.
But in a statement issued on Wednesday, the team confirmed that it expects Indy to be its final race for the 2013.
"Panther DRR is committed to competing in this weekend's Sao Paulo Indy 300 and the Indianapolis 500; however, does not currently have plans to enter the #22 in the remainder of the 2013 season," the statement said.
A core group of employees will be retained, with the team continuing to investigate opportunities to race in other categories.
It plans to regroup and re-enter IndyCar with a full programme next year, and already has plans in place for at least one entry in next year's Indy 500.
"We have to thank our great network of partners that have supported us and we want to continue to perform at our highest level for them," said Buhl in the statement. "We'll be working hard to bring in additional sponsors as we rebuild after Indy this year and look to next season."
Co-owner Dennis Reinbold also confirmed that his team's withdrawal will have no impact upon Panther Racing, which DRR entered a partnership with last year.
"We have a great technical partnership with Panther Racing and we look forward to continuing that through the Indy 500," said Reinbold. "We wish Panther Racing and [driver] JR Hildebrand all the best in the second half of their season. Our decision will not impact Panther Racing's operations in any way."
DRR driver Oriol Servia finished sixth at Long Beach two weeks ago.