Spielberg European F3: Red Bull star Daniil Kvyat sweeps poles
| | |
| --- | --- |
| By Jamie O'Leary | Friday, May 31st 2013, 17:06 GMT |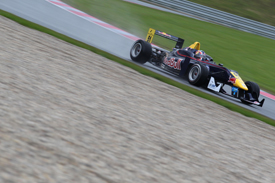 Red Bull junior driver Daniil Kvyat secured pole position for all three Formula 3 European Championship races at Spielberg with a stunning performance in qualifying.
The Russian teenager topped both wet sessions in his Carlin Dallara-Volkswagen to take pole for races one and three, while his second-best lap of Q1 ensured he will also start race two from the front of the grid.
The battle for pole in Q1 was as tight as ever with category rookie Kvyat - who is not registered as a points-scoring driver this year due to his late series entry - and Felix Rosenqvist swung back and forth.
Mucke driver Rosenqvist's 1m43.865s knocked Kvyat off the top spot by two tenths of a second with three minutes to go, but shortly afterwards Kvyat responded with a 1m43.825s lap - just four hundredths quicker.
Lucas Wolf delivered easily the best qualifying performance of his F3 career to date. The URD driver was third fastest in Q1, but set a Q2 time good enough for a front-row spot in the later race - ahead of Rosenqvist.
Eddie Cheever was surprisingly the best of the Prema drivers in Q1 as he took fourth spot on the race-one grid and added to it with a sixth and a ninth spot for the other races.
Jordan King and Nicholas Latifi will start fifth and sixth for Carlin in race one, the pair improving to third and fifth for Sunday's race.
The big disappointment of the afternoon was championship leader Raffaele Marciello, who was only fast enough for 13th and 16th spots for Saturday's races.
The Italian rescued a front-row spot for race three, but was almost half a second off Kvyat's pole time.
His British Prema team-mate Alex Lynn fared even worse and will start 17th, 15th and 21st.
Race one qualifying:

Pos  Driver               Team/Car                        Time       Gap
 1.  Daniil Kvyat         Carlin Dallara-VW               1m43.825s
 2.  Felix Rosenqvist     Mucke Dallara-Merc              1m43.865s  + 0.040s
 3.  Lucas Wolf           URD Dallara-Merc                1m44.114s  + 0.289s
 4.  Eddie Cheever        Prema Dallara-Merc              1m44.282s  + 0.457s
 5.  Jordan King          Carlin Dallara-VW               1m44.473s  + 0.648s
 6.  Nicholas Latifi      Carlin Dallara-VW               1m44.526s  + 0.701s
 7.  Lucas Auer           Prema Dallara-Merc              1m44.630s  + 0.805s
 8.  Harry Tincknell      Carlin Dallara-VW               1m44.652s  + 0.827s
 9.  Sven Muller          Ma-con Dallara-VW               1m44.694s  + 0.869s
10.  Josh Hill            Fortec Dallara-Merc             1m44.759s  + 0.934s
11.  Mitchell Gilbert     Mucke Dallara-Merc              1m44.788s  + 0.963s
12.  Jann Mardenborough   Carlin Dallara-VW               1m44.956s  + 1.131s
13.  Raffaelle Marciello  Prema Dallara-Merc              1m45.008s  + 1.183s
14.  Michael Lewis        Mucke Dallara-Merc              1m45.147s  + 1.322s
15.  Felix Serralles      Fortec Dallara-Merc             1m45.213s  + 1.388s
16.  Roy Nissany          Mucke Dallara-Merc              1m45.257s  + 1.432s
17.  Alex Lynn            Prema Dallara-Merc              1m45.284s  + 1.459s
18.  Antonio Giovinazzi   Double R Dallara-Merc           1m45.644s  + 1.819s
19.  Tom Blomqvist        Eurointernational Dallara-Merc  1m45.668s  + 1.843s
20.  Pipo Derani          Fortec Dallara-Merc             1m45.676s  + 1.851s
21.  Will Buller          Fortec Dallara-Merc             1m45.682s  + 1.857s
22.  Sandro Zeller        Zeller Dallara-Merc             1m46.361s  + 2.536s
23.  Mans Grenhagen       Van Amersfoort Dallara-VW       1m46.562s  + 2.737s
24.  Andre Rudersdorf     Ma-con Dallara-VW               1m46.737s  + 2.912s
25.  Dennis van de Laar   Van Amersfoort Dallara-VW       1m46.891s  + 3.066s
26.  Tatiana Calderon     Double R Dallara-Merc           1m47.159s  + 3.334s
27.  Sean Gelael          Double R Dallara-Merc           1m47.771s  + 3.946s
28.  Spike Goddard        T-Sport Dallara-Nissan          1m51.161s  + 7.336s


Race two qualifying:

Pos  Driver               Team/Car                        Time       Gap
 1.  Daniil Kvyat         Carlin Dallara-VW               1m44.052s
 2.  Lucas Wolf           URD Dallara-Merc                1m44.278s  + 0.226s
 3.  Felix Rosenqvist     Mucke Dallara-Merc              1m44.368s  + 0.316s
 4.  Nicholas Latifi      Carlin Dallara-VW               1m44.652s  + 0.600s
 5.  Josh Hill            Fortec Dallara-Merc             1m44.785s  + 0.733s
 6.  Eddie Cheever        Prema Dallara-Merc              1m44.851s  + 0.799s
 7.  Sven Muller          Ma-con Dallara-VW               1m44.875s  + 0.823s
 8.  Harry Tincknell      Carlin Dallara-VW               1m44.897s  + 0.845s
 9.  Jordan King          Carlin Dallara-VW               1m45.026s  + 0.974s
10.  Michael Lewis        Mucke Dallara-Merc              1m45.438s  + 1.386s
11.  Mitchell Gilbert     Mucke Dallara-Merc              1m45.538s  + 1.486s
12.  Lucas Auer           Prema Dallara-Merc              1m45.581s  + 1.529s
13.  Roy Nissany          Mucke Dallara-Merc              1m45.603s  + 1.551s
14.  Pipo Derani          Fortec Dallara-Merc             1m45.684s  + 1.632s
15.  Alex Lynn            Prema Dallara-Merc              1m45.707s  + 1.655s
16.  Raffaelle Marciello  Prema Dallara-Merc              1m45.783s  + 1.731s
17.  Antonio Giovinazzi   Double R Dallara-Merc           1m45.953s  + 1.901s
18.  Tom Blomqvist        Eurointernational Dallara-Merc  1m46.076s  + 2.024s
19.  Will Buller          Fortec Dallara-Merc             1m46.351s  + 2.299s
20.  Mans Grenhagen       Van Amersfoort Dallara-VW       1m46.855s  + 2.803s
21.  Sandro Zeller        Zeller Dallara-Merc             1m47.424s  + 3.372s
22.  Tatiana Calderon     Double R Dallara-Merc           1m47.426s  + 3.374s
23.  Jann Mardenborough   Carlin Dallara-VW               1m47.603s  + 3.551s
24.  Andre Rudersdorf     Ma-con Dallara-VW               1m47.882s  + 3.830s
25.  Sean Gelael          Double R Dallara-Merc           1m47.939s  + 3.887s
26.  Dennis van de Laar   Van Amersfoort Dallara-VW       1m47.943s  + 3.891s
27.  Felix Serralles      Fortec Dallara-Merc             1m48.691s  + 4.639s
28.  Spike Goddard        T-Sport Dallara-Nissan          1m52.020s  + 7.968s

Race three qualifying:

Pos  Driver               Team/Car                        Time       Gap
 1.  Daniil Kvyat         Carlin Dallara-VW               1m43.956s
 2.  Raffaelle Marciello  Prema Dallara-Merc              1m44.409s  + 0.453s
 3.  Felix Rosenqvist     Mucke Dallara-Merc              1m44.509s  + 0.553s
 4.  Jordan King          Carlin Dallara-VW               1m45.089s  + 1.133s
 5.  Nicholas Latifi      Carlin Dallara-VW               1m45.334s  + 1.378s
 6.  Lucas Wolf           URD Dallara-Merc                1m45.367s  + 1.411s
 7.  Jann Mardenborough   Carlin Dallara-VW               1m45.605s  + 1.649s
 8.  Harry Tincknell      Carlin Dallara-VW               1m45.697s  + 1.741s
 9.  Lucas Auer           Prema Dallara-Merc              1m45.758s  + 1.802s
10.  Antonio Giovinazzi   Double R Dallara-Merc           1m45.962s  + 2.006s
11.  Roy Nissany          Mucke Dallara-Merc              1m46.252s  + 2.296s
12.  Sven Muller          Ma-con Dallara-VW               1m46.338s  + 2.382s
13.  Eddie Cheever        Prema Dallara-Merc              1m46.430s  + 2.474s
14.  Pipo Derani          Fortec Dallara-Merc             1m46.664s  + 2.708s
15.  Will Buller          Fortec Dallara-Merc             1m46.728s  + 2.772s
16.  Tom Blomqvist        Eurointernational Dallara-Merc  1m46.843s  + 2.887s
17.  Mitchell Gilbert     Mucke Dallara-Merc              1m47.009s  + 3.053s
18.  Josh Hill            Fortec Dallara-Merc             1m47.021s  + 3.065s
19.  Michael Lewis        Mucke Dallara-Merc              1m47.309s  + 3.353s
20.  Andre Rudersdorf     Ma-con Dallara-VW               1m47.358s  + 3.402s
21.  Alex Lynn            Prema Dallara-Merc              1m47.695s  + 3.739s
22.  Dennis van de Laar   Van Amersfoort Dallara-VW       1m47.713s  + 3.757s
23.  Felix Serralles      Fortec Dallara-Merc             1m47.739s  + 3.783s
24.  Sean Gelael          Double R Dallara-Merc           1m47.761s  + 3.805s
25.  Mans Grenhagen       Van Amersfoort Dallara-VW       1m48.044s  + 4.088s
26.  Tatiana Calderon     Double R Dallara-Merc           1m48.479s  + 4.523s
27.  Sandro Zeller        Zeller Dallara-Merc             1m48.585s  + 4.629s
28.  Spike Goddard        T-Sport Dallara-Nissan          1m48.901s  + 4.945s