Kimi Raikkonen moves on from Monaco spat with Sergio Perez
| | |
| --- | --- |
| | Friday, May 31st 2013, 16:20 GMT |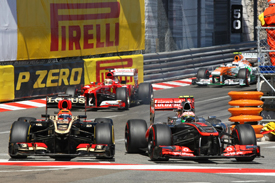 Kimi Raikkonen insists he has moved on from his post-Monaco spat with McLaren's Sergio Perez.
The Finn was running fifth in the grand prix when Perez tried to pass him on the way down to the chicane.
Contact dropped both men down the order and led to post-race acrimony, with Perez blaming Raikkonen for the collision and the Lotus driver retorting that Perez 'needed to be punched'.
Raikkonen, who eventually recovered to 10th, says he has drawn a line under the incident despite lingering frustration.

Does Perez deserve to be punched?
"No one wants to lose so many points thanks to the actions of another driver, but that race is over; Monaco is just a distant memory and I'm all ready for Canada," Raikkonen said.
"We had a bad result, that was clear for anyone to see. It could have been even worse, but it could have been much better as well.
"We came out with one point so at least we got something back after losing the solid fifth place, but that's not much consolation."
TITLE BID STILL ON
Raikkonen said his pace following the clash, particularly when running in clean air, reinforced his belief that he and Lotus can challenge for this year's world championship.
"The car felt good for qualifying and the race which is a positive as it was another circuit - and a difficult circuit - where we've been able to have the car pretty much as we wanted," he explained.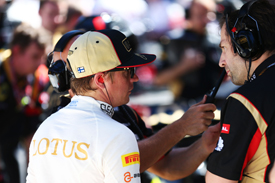 "We still lack just a little bit of speed in qualifying sometimes, but our race pace was good again; not that you can show that when you're stuck behind slower cars like we saw in Monaco.
"In a way, [his recovery] almost makes it more frustrating as when we had the clean air after the pit stop it was probably the first time you saw how quick our car really was.
"We lost ground on the lead in Monaco, but it's not over yet. It's still early in the season and 21 points behind is not too much to catch up; especially if Sebastian [Vettel] has a bad weekend too at some point.
"The most important thing is that we return to our race level before Monaco to get things going our way as soon as possible."