Silverstone British F3: John Bryant-Meisner takes double pole
| | |
| --- | --- |
| By Marcus Simmons | Saturday, May 25th 2013, 11:04 GMT |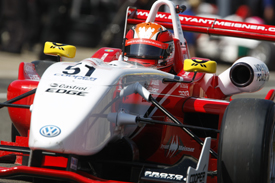 Invitation Class runner John Bryant-Meisner took a double pole for the opening round of the British Formula 3 International Series at Silverstone, but Jordan King was fastest of those who are eligible for points.
Bryant-Meisner, whose Performance Racing Dallara uses the spec Volkswagen engine from the German F3 Cup fitted with a boost button, was 0.837 seconds clear of King's best.
"It's hard to know how much quicker our car is," said the Swede, who sat out most of the 2012 season due to breaking his back in a testing shunt. "I'm just here to get as much track time as possible."

NEWS UPDATE: Bryant-Meisner has boost disconnected
King's Carlin Dallara-Volkswagen leapt to the top of the FIA-rules F3 cars when the Englishman fitted his second set of tyres.
Team-mate Nicholas Latifi was fastest at the midpoint, when all the leading runners pitted for new Cooper rubber, but an off at Becketts on his first flying lap on new tyres damaged the floor and he could not improve. The Canadian dropped to seventh overall, but on second-best times, which decide the grid for race one, he finished up third.
The other Carlin runner, Welshman Jann Mardenborough, will start both races from the third row.
Will Buller's return to Fortec Motorsport ended with his Dallara-Mercedes taking third overall, but he drops to sixth on the race one grid. Team-mate Felix Serralles will start Sunday's final race from fifth, but moves up to fourth for this afternoon's event.
A much-improved performance from Indonesian Sean Gelael, for the first time returning to a circuit he knows, ended with him planting his Double R Racing Dallara-Mercedes in fourth fastest position overall. Antonio Giovinazzi was fastest of the Double R trio in the first half of the session, but a suspected engine problem meant he slid down the times.
Ed Jones was quickest by just over a second in the National Class with his European F3 Open-spec Team West-Tec Dallara-Toyota. The Anglo-Emirati took both class poles but ended the session with damage after an accident.
Second in class for Sunday's final race is another West-Tec Dallara, that of New Zealander Chris Vlok, although it is Chinese driver Sun Zheng, in the conventional British F3 National Class-spec Mugen-powered CF Racing Dallara, who will start from that spot on Saturday.
Race one grid:

Pos  Cl     Driver               Team/Car                    Time       Gap
 1.  Inv    John Bryant-Meisner  Performance Dallara-VW      1m54.313s
 2.         Jordan King          Carlin Dallara-VW           1m55.247s  + 0.934s
 3.         Nicholas Latifi      Carlin Dallara-VW           1m55.431s  + 1.118s
 4.         Felix Serralles      Fortec Dallara-Merc         1m55.441s  + 1.128s
 5.         Jann Mardenborough   Carlin Dallara-VW           1m55.520s  + 1.207s
 6.         Will Buller          Fortec Dallara-Merc         1m55.606s  + 1.293s
 7.         Felipe Guimaraes     Fortec Dallara-Merc         1m56.025s  + 1.712s
 8.         Sean Gelael          Double R Dallara-Merc       1m56.150s  + 1.837s
 9.         Antonio Giovinazzi   Double R Dallara-Merc       1m56.290s  + 1.977s
10.         Tatiana Calderon     Double R Dallara-Merc       1m56.980s  + 2.667s
11.  Nat    Ed Jones             West-Tec Dallara-Toyota     1m57.407s  + 3.094s
12.  Nat    Sun Zheng            CF Dallara-Mugen            1m59.041s  + 4.728s
13.  Nat    Chris Vlok           West-Tec Dallara-Toyota     1m59.064s  + 4.751s
14.  Nat    Roberto la Rocca     West-Tec Dallara-Toyota     1m59.222s  + 4.909s
15.  Nat    Cameron Twynham      West-Tec Dallara-Toyota     1m59.595s  + 5.282s
16.  Nat B  Alice Powell         Mark Bailey Dallara-Toyota  1m59.893s  + 5.580s
17.  Nat    Liam Venter          West-Tec Dallara-Toyota     2m00.689s  + 6.376s
18.  Nat    Sean Walkinshaw      West-Tec Dallara-Toyota     2m00.980s  + 6.667s
19.  Nat    Huan Zhu             West-Tec Dallara-Toyota     2m02.487s  + 8.174s

Race three grid:

Pos  Cl     Driver               Team/Car                    Time       Gap
 1.  Inv    John Bryant-Meisner  Performance Dallara-VW      1m53.882s
 2.         Jordan King          Carlin Dallara-VW           1m54.719s  + 0.837s
 3.         Will Buller          Fortec Dallara-Merc         1m54.929s  + 1.047s
 4.         Sean Gelael          Double R Dallara-Merc       1m55.161s  + 1.279s
 5.         Felix Serralles      Fortec Dallara-Merc         1m55.266s  + 1.384s
 6.         Jann Mardenborough   Carlin Dallara-VW           1m55.312s  + 1.430s
 7.         Nicholas Latifi      Carlin Dallara-VW           1m55.383s  + 1.501s
 8.         Felipe Guimaraes     Fortec Dallara-Merc         1m55.755s  + 1.873s
 9.         Antonio Giovinazzi   Double R Dallara-Merc       1m56.175s  + 2.293s
10.         Tatiana Calderon     Double R Dallara-Merc       1m56.880s  + 2.998s
11.  Nat    Ed Jones             West-Tec Dallara-Toyota     1m57.350s  + 3.468s
12.  Nat    Chris Vlok           West-Tec Dallara-Toyota     1m58.419s  + 4.537s
13.  Nat    Roberto la Rocca     West-Tec Dallara-Toyota     1m58.875s  + 4.993s
14.  Nat    Sun Zheng            CF Dallara-Mugen            1m58.928s  + 5.046s
15.  Nat    Cameron Twynham      West-Tec Dallara-Toyota     1m59.062s  + 5.180s
16.  Nat B  Alice Powell         Mark Bailey Dallara-Toyota  1m59.819s  + 5.937s
17.  Nat    Sean Walkinshaw      West-Tec Dallara-Toyota     2m00.548s  + 6.666s
18.  Nat    Liam Venter          West-Tec Dallara-Toyota     2m00.548s  + 6.666s
19.  Nat    Huan Zhu             West-Tec Dallara-Toyota     2m02.486s  + 8.604s