Hockenheim European F3: Marciello survives spin to win race one
| | |
| --- | --- |
| By Jamie O'Leary | Saturday, May 4th 2013, 09:55 GMT |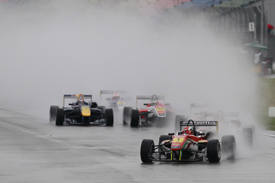 Raffaele Marciello survived a mid-race spin to win the first of three Formula 3 European Championship races at a wet Hockenheim on Saturday morning.
The Italian dominated from pole position, making a strong start and pulling out a five-second gap by the end of the opening lap.
The Prema Powerteam driver increased his lead to 14.4s, and was still over 10s clear after he spun through 360 degrees exiting Turn 1 midway through the race.
He continued without damage and was still easily able to take his fourth win of the year, which increased his championship lead from 36.5 points to 57.5.
Marciello's team-mate Lucas Auer almost grabbed the lead at the start of the race, but spun to the tail end of the top 10 exiting the first corner.
That handed second to Alex Lynn in the third Prema car, but the Brit also spun on the first lap and was narrowly avoided by both Tom Blomqvist and Felix Serralles at the Mercedes Arena.
Serralles moved into second as a result, the Puerto Rican resisting initial pressure from Blomqvist to take the best result for Fortec in the championship this year.
EuroInternational driver Blomqvist completed the podium with Ma-con's Sven Muller passing Harry Tincknell's Carlin machine for fourth at the Arena on the sixth lap.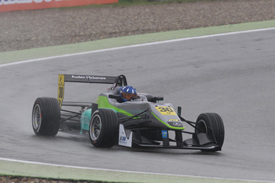 Josh Hill was the best of the rookies in a fine sixth spot - his best result in F3 - for Fortec.
Auer recovered to seventh - avoiding a potential collision with Felix Rosenqvist at the Spitzkehre in the process as the Swede missed his braking point with a handful of laps to go.
Rosenqvist, Will Buller - who had run as high as sixth early on - and F3 debutant Daniil Kvyat completed the top 10.
Lynn, who had fallen to 25th after his first-lap spin, finished 15th while his team-mate Eddie Cheever, who had struggled with a gear-shifting glitch since going to the grid before the start, spun out of the race entering the Stadium section on the second lap.
Results - 19 laps:

Pos Driver              Team/Car                         Time/Gap
 1. Raffaele Marciello  Prema Dallara-Merc               36m00.250s
 2. Felix Serralles     Fortec Dallara-Merc              + 14.834s
 3. Tom Blomqvist       Eurointernational Dallara-Merc   + 15.719s
 4. Sven Muller         Ma-con Dallara-VW                + 20.088s
 5. Harry Tincknell     Carlin Dallara-VW                + 27.135s
 6. Josh Hill           Fortec Dallara-Merc              + 29.504s
 7. Lucas Auer          Prema Dallara-Merc               + 32.245s
 8. Felix Rosenqvist    Mucke Dallara-Merc               + 32.875s
 9. Will Buller         T-Sport Dallara-Nissan           + 36.821s
10. Daniil Kvyat        Carlin Dallara-VW                + 44.211s
11. Jordan King         Carlin Dallara-VW                + 47.010s
12. Antonio Giovinazzi  Double R Dallara-Merc            + 54.209s
13. Dennis van de Laar  Van Amersfoort Dallara-VW        + 57.214s
14. Pipo Derani         Fortec Dallara-Merc              + 58.256s
15. Alex Lynn           Prema Dallara-Merc               + 59.102s
16. Jann Mardenborough  Carlin Dallara-VW                + +1m02.361s
17. Mitchell Gilbert    Mucke Dallara-Merc               + +1m06.467s
18. Lucas Wolf          URD Dallara-Merc                 + +1m15.784s
19. Mans Grenhagen      Van Amersfoort Dallara-VW        + +1m25.312s
20. Ed Jones            Fortec Dallara-Merc              + +1m25.809s
21. Sean Gelael         Double R Dallara-Merc            + +1m32.525s
22. Michael Lewis       Mucke Dallara-Merc               + +1m33.300s
23. Nicholas Latifi     Carlin Dallara-VW                + +1m41.660s
24. Roy Nissany         Mucke Dallara-Merc               + +1m42.873s
25. Andre Rudersdorf    Ma-con Dallara-VW                + 1 lap
26. Tatiana Calderon    Double R Dallara-Merc            + 1 lap
27. Spike Goddard       T-Sport Dallara-Nissan           + 1 lap

Retirements:

    Sandro Zeller       Zeller Dallara-Merc              7 laps
    Eddie Cheever       Prema Dallara-Merc              18 laps