Hockenheim European F3: Marciello and Kvyat share poles
| | |
| --- | --- |
| By Jamie O'Leary | Friday, May 3rd 2013, 17:11 GMT |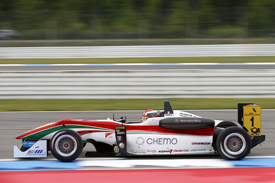 Raffaele Marciello and Daniil Kvyat shared the pole positions in a frenetic pair of Formula 3 European Championship qualifying sessions at Hockenheim.
Practice pacesetter Marciello was untouchable in the first session on Friday afternoon as he lapped the German circuit in 1m33.623s in his Prema Powerteam Dallara-Mercedes to take pole for Saturday's first race.
Briton Alex Lynn was just 0.122 seconds slower while Lucas Auer made it an all-Prema top three.
Tom Blomqvist was the best of the non-Prema drivers in fourth, but the EuroInternational driver's second-best lap was enough to elevate him to a front-row spot, alongside Marciello, for race two.
Kvyat, who is making his F3 debut this weekend with Carlin, will start the opening two races from 10th and 11th positions, but fitted new tyres for Q2 and was able to steal the top spot with a 1m33.367s marker set on his final lap.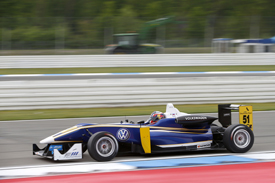 That was enough to demote his Carlin team-mate Jordan King to second, ahead of Auer, Felix Rosenqvist, Felix Serralles and Lynn.
Silverstone race winner Rosenqvist brought out the red flags during Q2 when he spun into the gravel at the Nord Kurve with five minutes to go; the Mucke Motorsport driver having just set the fastest time in the final sector.
The big loser in Q2 was Marciello, who will start 10th, behind Blomqvist.
T-Sport driver Will Buller had a Nissan engine change between practice and qualifying. A pair of 13th places were his best efforts.
Series debutant Ed Jones was 23rd in Q1 on fastest and second-fastest times. But the Fortec driver will start race one from 25th after being docked two grid spots for exceeding track limits in practice.
Race one grid:

Pos  Driver              Team/Car                        Time       Gap
 1.  Raffaele Marciello  Prema Dallara-Merc              1m33.623s
 2.  Alex Lynn           Prema Dallara-Merc              1m33.745s  + 0.122s
 3.  Lucas Auer          Prema Dallara-Merc              1m33.776s  + 0.153s
 4.  Tom Blomqvist       Eurointernational Dallara-Merc  1m33.832s  + 0.209s
 5.  Felix Serralles     Fortec Dallara-Merc             1m33.841s  + 0.218s
 6.  Sven Muller         Ma-con Dallara-VW               1m33.974s  + 0.351s
 7.  Eddie Cheever       Prema Dallara-Merc              1m34.045s  + 0.422s
 8.  Jordan King         Carlin Dallara-VW               1m34.109s  + 0.486s
 9.  Josh Hill           Fortec Dallara-Merc             1m34.153s  + 0.530s
10.  Daniil Kvyat        Carlin Dallara-VW               1m34.206s  + 0.583s
11.  Harry Tincknell     Carlin Dallara-VW               1m34.246s  + 0.623s
12.  Felix Rosenqvist    Mucke Dallara-Merc              1m34.329s  + 0.706s
13.  Will Buller         T-Sport Dallara-Nissan          1m34.369s  + 0.746s
14.  Roy Nissany         Mucke Dallara-Merc              1m34.424s  + 0.801s
15.  Dennis van de Laar  Van Amersfoort Dallara-VW       1m34.451s  + 0.828s
16.  Mans Grenhagen      Van Amersfoort Dallara-VW       1m34.504s  + 0.881s
17.  Nicholas Latifi     Carlin Dallara-VW               1m34.560s  + 0.937s
18.  Mitchell Gilbert    Mucke Dallara-Merc              1m34.630s  + 1.007s
19.  Pipo Derani         Fortec Dallara-Merc             1m34.938s  + 1.315s
20.  Spike Goddard       T-Sport Dallara-Nissan          1m35.110s  + 1.487s
21.  Antonio Giovinazzi  Double R Dallara-Merc           1m35.225s  + 1.602s
22.  Jann Mardenborough  Carlin Dallara-VW               1m35.281s  + 1.658s
23.  Andre Rudersdorf    Ma-con Dallara-VW               1m35.363s  + 1.740s
24.  Michael Lewis       Mucke Dallara-Merc              1m35.411s  + 1.788s
25.  Ed Jones            Fortec Dallara-Merc             1m35.667s  + 2.044s
26.  Sean Gelael         Double R Dallara-Merc           1m35.680s  + 2.057s
27.  Lucas Wolf          URD Dallara-Merc                1m35.842s  + 2.219s
28.  Sandro Zeller       Zeller Dallara-Merc             1m36.063s  + 2.440s
29.  Tatiana Calderon    Double R Dallara-Merc           1m36.589s  + 2.966s

Race two grid:

Pos  Driver              Team/Car                        Time       Gap
 1.  Raffaele Marciello  Prema Dallara-Merc              1m33.685s
 2.  Tom Blomqvist       Eurointernational Dallara-Merc  1m33.938s  + 0.253s
 3.  Lucas Auer          Prema Dallara-Merc              1m34.015s  + 0.330s
 4.  Felix Serralles     Fortec Dallara-Merc             1m34.040s  + 0.355s
 5.  Sven Muller         Ma-con Dallara-VW               1m34.094s  + 0.409s
 6.  Josh Hill           Fortec Dallara-Merc             1m34.214s  + 0.529s
 7.  Alex Lynn           Prema Dallara-Merc              1m34.288s  + 0.603s
 8.  Dennis van de Laar  Van Amersfoort Dallara-VW       1m34.476s  + 0.791s
 9.  Eddie Cheever       Prema Dallara-Merc              1m34.486s  + 0.801s
10.  Felix Rosenqvist    Mucke Dallara-Merc              1m34.526s  + 0.841s
11.  Daniil Kvyat        Carlin Dallara-VW               1m34.541s  + 0.856s
12.  Jordan King         Carlin Dallara-VW               1m34.549s  + 0.864s
13.  Harry Tincknell     Carlin Dallara-VW               1m34.590s  + 0.905s
14.  Will Buller         T-Sport Dallara-Nissan          1m34.600s  + 0.915s
15.  Roy Nissany         Mucke Dallara-Merc              1m34.637s  + 0.952s
16.  Mitchell Gilbert    Mucke Dallara-Merc              1m34.709s  + 1.024s
17.  Nicholas Latifi     Carlin Dallara-VW               1m34.782s  + 1.097s
18.  Mans Grenhagen      Van Amersfoort Dallara-VW       1m34.881s  + 1.196s
19.  Pipo Derani         Fortec Dallara-Merc             1m35.104s  + 1.419s
20.  Spike Goddard       T-Sport Dallara-Nissan          1m35.271s  + 1.586s
21.  Jann Mardenborough  Carlin Dallara-VW               1m35.330s  + 1.645s
22.  Andre Rudersdorf    Ma-con Dallara-VW               1m35.556s  + 1.871s
23.  Antonio Giovinazzi  Double R Dallara-Merc           1m35.593s  + 1.908s
24.  Lucas Wolf          URD Dallara-Merc                1m35.869s  + 2.184s
25.  Michael Lewis       Mucke Dallara-Merc              1m35.946s  + 2.261s
26.  Edward Jones        Fortec Dallara-Merc             1m36.076s  + 2.391s
27.  Sean Gelael         Double R Dallara-Merc           1m36.260s  + 2.575s
28.  Sandro Zeller       Zeller Dallara-Merc             1m36.560s  + 2.875s
29.  Tatiana Calderon    Double R Dallara-Merc           1m36.942s  + 3.257s

Race three grid:

Pos  Driver              Team/Car                        Time       Gap
 1.  Daniil Kvyat        Carlin Dallara-VW               1m33.367s
 2.  Jordan King         Carlin Dallara-VW               1m33.418s  + 0.051s
 3.  Lucas Auer          Prema Dallara-Merc              1m33.486s  + 0.119s
 4.  Felix Rosenqvist    Mucke Dallara-Merc              1m33.536s  + 0.169s
 5.  Felix Serralles     Fortec Dallara-Merc             1m33.574s  + 0.207s
 6.  Alex Lynn           Prema Dallara-Merc              1m33.583s  + 0.216s
 7.  Eddie Cheever       Prema Dallara-Merc              1m33.595s  + 0.228s
 8.  Josh Hill           Fortec Dallara-Merc             1m33.623s  + 0.256s
 9.  Tom Blomqvist       Eurointernational Dallara-Merc  1m33.641s  + 0.274s
10.  Raffaele Marciello  Prema Dallara-Merc              1m33.718s  + 0.351s
11.  Sven Muller         Ma-con Dallara-VW               1m33.737s  + 0.370s
12.  Harry Tincknell     Carlin Dallara-VW               1m33.772s  + 0.405s
13.  Will Buller         T-Sport Dallara-Nissan          1m33.854s  + 0.487s
14.  Mans Grenhagen      Van Amersfoort Dallara-VW       1m33.983s  + 0.616s
15.  Nicholas Latifi     Carlin Dallara-VW               1m34.077s  + 0.710s
16.  Jann Mardenborough  Carlin Dallara-VW               1m34.172s  + 0.805s
17.  Roy Nissany         Mucke Dallara-Merc              1m34.387s  + 1.020s
18.  Pipo Derani         Fortec Dallara-Merc             1m34.406s  + 1.039s
19.  Antonio Giovinazzi  Double R Dallara-Merc           1m34.487s  + 1.120s
20.  Michael Lewis       Mucke Dallara-Merc              1m34.719s  + 1.352s
21.  Lucas Wolf          URD Dallara-Merc                1m34.792s  + 1.425s
22.  Andre Rudersdorf    Ma-con Dallara-VW               1m34.904s  + 1.537s
23.  Dennis van de Laar  Van Amersfoort Dallara-VW       1m34.905s  + 1.538s
24.  Sandro Zeller       Zeller Dallara-Merc             1m34.934s  + 1.567s
25.  Spike Goddard       T-Sport Dallara-Nissan          1m35.024s  + 1.657s
26.  Sean Gelael         Double R Dallara-Merc           1m35.276s  + 1.909s
27.  Tatiana Calderon    Double R Dallara-Merc           1m36.133s  + 2.766s
28.  Ed Jones            Fortec Dallara-Merc
29.  Mitchell Gilbert    Mucke Dallara-Merc