Mercedes F1 team will bide time over further management changes
| | |
| --- | --- |
| By Jonathan Noble | Tuesday, April 30th 2013, 10:26 GMT |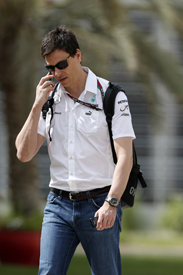 Mercedes motorsport boss Toto Wolff says he is now happy to bide his time over any further management tweaks after his team's successful start to the 2013 Formula 1 campaign.
The future of team principal Ross Brawn has been the subject of great intrigue ever since Mercedes signed McLaren technical director Paddy Lowe to join it next year in a senior role.
But with Brawn's future tied in to the fortunes of the team, Wolff says Mercedes' two pole positions and two podiums in the early rounds mean there is no pressure to make rash decisions about longer term tweaks.
Instead, he says the plan now is to work closely with Brawn to ensure that any future changes are done only when necessary.
When asked by AUTOSPORT how things were panning out with Brawn, Wolff said: "Ross always says performance is power, and this is how you are being measured.
"Even though the story about Paddy was a lot in the media, we are trying to have a rational proactive way of structuring our management with no knee-jerk decisions.
"What we have discussed internally is all under control. Ross is in that role now and he is very efficient in that role now.
"But you need to look ahead. That doesn't mean that Ross is not going to be with us, not at all, but we will probably strengthen the organisation with other people."
BRAWN PUSHES FOR STABILITY
Brawn himself said recently that Mercedes' progress was the result of the current team structure having bedded down, and that it would be foolish to make changes to upset the dynamic.
"F1 is about a massive engineering exercise, as well as the sporting side with the drivers and the team," explained Brawn. "You must always look to improve both sides, but without damaging what you already have. It is a very delicate evolution.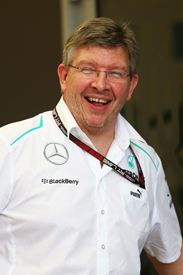 "It is very easy to damage what you already have, so you need to make sure that if you do big changes, you know where they are going to end up.
"We have a good aero group now. We can always strengthen it, but we must strengthen it by enhancing what we have. We must not damage what we have because it is a great group of people now - and on the sporting side it is the same."
Wolff added that it would still take him more time to fully understand the strengths and weaknesses of the team. He said there was no immediate concerns, however, and any tweaks being implemented were minor.
"We have started already to change things internally on many things which are not visible on the weekends and are not visible externally," he said.
"We have looked at things internally: about the structure, how you communicate internally and responsibilities. That is an ongoing process actually.
"But I can only make up my mind properly if I understand the whole picture and you cannot understand the whole picture after three months."