Aragon FR3.5: Kevin Magnussen dominates race one
| | |
| --- | --- |
| By Glenn Freeman | Saturday, April 27th 2013, 13:36 GMT |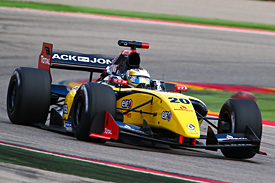 Kevin Magnussen took his first victory of 2013 with a dominant performance in the opening Formula Renault 3.5 race at Aragon.
The McLaren junior converted pole position into the lead at the start thanks to some strong defending against fellow front row starter Sergey Sirotkin, and he was never challenged after that.
As Magnussen pulled away to open out what would be a 19-second lead by the finish, Arthur Pic spent most of the race in second after swooping around the outside at the start.
However, the Frenchman was reeled in by a charging Will Stevens in the closing stages, and after a couple of errors from Pic late in the race Stevens was able to take second - having started 11th - on the exit of Turn 1 on the final lap.
Sirotkin fought off the advances of Magnussen's DAMS team-mate Norman Nato to take fourth. Before the pair were passed by Stevens, Nato had made one failed attempt at taking the place, but Sirotkin was able to keep him under control after that.
Nigel Melker and Christopher Zanella were next up, the latter holding off former championship leader Stoffel Vandoorne and Marco Sorensen to the flag.
Sorensen had run fifth in the early laps, but he and Vandoorne both lost places at the end of the seventh lap, which left them stuck towards the bottom of the points for the rest of the race.
For the second event running Vandoorne had to nurse a badly flat-spotted tyre to the finish, after he suffered a big lock-up at the end of the opening lap.
Red Bull junior Antonio Felix da Costa, who was sent to the back of the grid after his car ran out of fuel in qualifying, recovered to 13th place and missed out on the points by a little over five seconds.
The Arden Caterham driver climbed from 26th to 18th in the first few corners, but from there his progress was slow as he battled in the middle of the pack.
Magnussen's win gives him the lead in the championship, 17 points clear of Vandoorne.

Results - 27 laps:

Pos Driver                  Team               Time/Gap
 1. Kevin Magnussen         DAMS             46m15.323s
 2. Will Stevens            P1                + 19.933s
 3. Arthur Pic              AV Formula        + 21.266s
 4. Sergey Sirotkin         ISR               + 23.601s
 5. Norman Nato             DAMS              + 24.398s
 6. Nigel Melker            Tech 1            + 26.094s
 7. Christopher Zanella     ISR               + 34.943s
 8. Stoffel Vandoorne       Fortec            + 35.419s
 9. Marco Sorensen          Lotus             + 36.065s
10. Mikhail Aleshin         Tech 1            + 37.973s
11. Oliver Webb             Fortec            + 41.520s
12. Nikolay Martsenko       Pons              + 42.016s
13. Antonio Felix da Costa  Arden Caterham    + 42.609s
14. Lucas Foresti           Comtec          + 1m04.474s
15. Yann Cunha              AV Formula      + 1m15.586s
16. Matias Laine            P1              + 1m17.124s
17. Zoel Amberg             Pons            + 1m18.185s
18. Jazeman Jaafar          Carlin          + 1m18.934s
19. Marlon Stockinger       Lotus           + 1m23.597s
20. Carlos Huertas          Carlin          + 1m25.368s
21. Daniil Move             Comtec          + 1m31.909s
22. Matheo Tuscher          Zeta Corse      + 1m45.147s

Retirements:

    Andre Negrao            Draco               23 laps
    Pietro Fantin           Arden Caterham      20 laps
    Mihai Marinescu         Zeta Corse          17 laps
    Nico Muller             Draco                0 laps