Aragon FR3.5: Kevin Magnussen secures pole for race one
| | |
| --- | --- |
| By Glenn Freeman | Saturday, April 27th 2013, 08:36 GMT |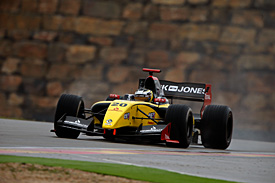 Kevin Magnussen continued his dominance of this weekend's Formula Renault 3.5 action at Aragon by taking pole position for race one.
The McLaren junior, who topped all three tests prior to qualifying at the Spanish track, was involved in the fight for pole from the start of the wet session.
Initially he was scrapping with championship leader Stoffel Vandoorne at the top, but the Belgian was unable to stay in the pole fight as the track started to dry and times improved in the closing stages.
Magnussen's countryman Marco Sorensen took up the fight along with Red Bull junior Antonio Felix da Costa, but every improvement they made was bettered by the DAMS driver.
The polesitter's session was not without drama though. On one lap he managed to go quickest despite a clash with Nico Muller at the final hairpin.
He had a couple of off-track moments as he pushed the limits more than most, and his final lap - which was already slightly slower than his best - was ruined by traffic.
Da Costa was on course to snatch pole with his final lap as the chequered flag came out, but the Portuguese driver's effort faded and he had to make do with third.

Da Costa sent to the back of grid
There was then concern at Arden Caterham when da Costa then stopped on track before getting back to the pits.
"I don't know what caused it yet," da Costa said. "I just saw some alarms on the dash. Now we have to wait to find out."
For the second event running the ISR cars proved to be a wildcard in the pole fight. Sergey Sirotkin briefly took pole from Magnussen with two minutes to go, while team-mate Christopher Zanella held third before da Costa's final lap.
The Czech team will line up second and fourth respectively, just ahead of Sorensen and Arthur Pic.
Vandoorne, who showed frontrunning pace in the wet in practice, slipped back to ninth, which he put down to starting his second run too early.
"I did my quickest time when the track was still a bit too wet," he told AUTOSPORT. "By the end when it was quicker my tyres were burned.
"It'll be a hard race, but at least we know we are not back there because we don't have the pace."
Pos Driver               Team              Time      Gap       Laps
 1. Kevin Magnussen      DAMS              1m54.306s            13
 2. Sergey Sirotkin      ISR               1m54.342s  + 0.036s  12
 3. Antonio F. da Costa  Arden Caterham    1m54.526s  + 0.220s  15
 4. Christopher Zanella  ISR               1m54.547s  + 0.241s  11
 5. Marco Sorensen       Lotus             1m54.675s  + 0.369s  15
 6. Arthur Pic           AV Formula        1m55.007s  + 0.701s  13
 7. Norman Nato          DAMS              1m55.072s  + 0.766s  13
 8. Nico Muller          Draco             1m55.086s  + 0.780s  13
 9. Stoffel Vandoorne    Fortec            1m55.157s  + 0.851s  15
10. Oliver Webb          Fortec            1m55.312s  + 1.006s  15
11. Daniil Move          Comtec            1m55.475s  + 1.169s  12
12. Nigel Melker         Tech 1            1m55.546s  + 1.240s  12
13. Will Stevens         P1                1m55.619s  + 1.313s  14
14. Andre Negrao         Draco             1m55.669s  + 1.363s  13
15. Matias Laine         P1                1m55.709s  + 1.403s  13
16. Mikhail Aleshin      Tech 1            1m55.716s  + 1.410s  13
17. N.Martsenko          Pons              1m55.721s  + 1.415s  13
18. M.Stockinger         Lotus             1m55.752s  + 1.446s  14
19. Lucas Foresti        Comtec            1m55.944s  + 1.638s  13
20. Pietro Fantin        Arden Caterham    1m56.004s  + 1.698s  15
21. Zoel Amberg          Pons              1m56.228s  + 1.922s  14
22. Jazeman Jaafar       Carlin            1m56.404s  + 2.098s  14
23. Matheo Tuscher       Zeta Corse        1m56.647s  + 2.341s  13
24. Yann Cunha           AV Formula        1m56.677s  + 2.371s  14
25. Mihai Marinescu      Zeta Corse        1m57.372s  + 3.066s  13
26. Carlos Huertas       Carlin            1m57.778s  + 3.472s  14