Bahrain GP: Pirelli sure debris caused both Felipe Massa's punctures
| | |
| --- | --- |
| By Jonathan Noble | Sunday, April 21st 2013, 18:00 GMT |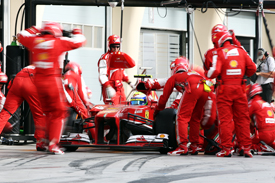 Pirelli believes debris was to blame for both of Felipe Massa's punctures in the Bahrain Grand Prix.
The Ferrari driver was forced to make two extra pitstops at Sakhir to replace damaged right rear tyres on a weekend when other drivers - including Lewis Hamilton – also suffered tyre issues.
Although Felipe Massa was unsure about the exact cause of the deflations, Hembery says that Pirelli's initial investigations point towards debris triggering the failures, rather than structural problems.
"The first one we have got a big cut through the tread pack and the second one has a cut in the sidewall. We can see through the tread as there is a hole through the top of the tread as well," Hembery told AUTOSPORT.
"Plus, one of them came back with a bag of carbon from another car, some very large pieces of carbon. It shows that there was quite a lot of debris out there."
MASSA SUSPECTS TWO DIFFERENT ISSUES
Massa himself has no doubt that the second tyre failure was caused by a puncture, but he was less convinced about the first.
"The biggest problem was the punctures, which I think were two different reasons," he explained. "The first was maybe delamination of the tyre, but the second was a puncture.
"I didn't touch anybody so I think it was debris. The first one it started vibrating a lot and then on the back straight, the vibration was so hard I had to get out of the throttle.
"The second one was a puncture. I got to the last corner, there was no tyre - no warning, it was just gone. This never happened to me before, two punctures in one race."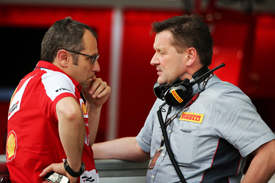 Hembery said that Pirelli would hold a post-event debrief with Ferrari to find out more details about what happened.
"People are doubting that it was debris, and saying 'yeah you would say that, sure' but it is quite interesting that actually we got the [quarantine] bag back with the bits in today and they are not small pieces," he said. "It is very dramatic.
"We don't know if Felipe had any contact at all, and that is something we need to talk to Ferrari about, as we don't follow each individual car around.
"But from what we have seen so far it was debris, which probably led to some slow deflation. Then the air heats up and that has caused the instant deflation."