Audi looks to ramp up US involvement in the near future
| | |
| --- | --- |
| By Gary Watkins | Sunday, April 14th 2013, 13:05 GMT |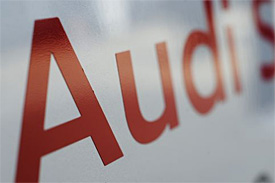 Audi is evaluating programmes in IndyCar, Daytona Prototypes and DTM America as it looks to ramp up its involvement in US motorsport.
The German marque's new research and development boss Wolfgang Durheimer revealed that Audi is in the process of making key decisions about its motorsport future in North America and could decide early in the summer in time for a programme or programmes to be launched for 2014.
"At the moment we are talking about ideas," he said. "We will have important discussions between now and when the holiday season starts, because we need to get our act together and decide when and where we will race."
Durheimer, who also co-ordinates motorsport for all the brands of the Volkswagen group, put meat on the bones of Audi Sport boss Wolfgang Ullrich's comments in January about a possible entry into the Prototype (nee Daytona Prototype) category of the new-for-2014 United SportsCar Racing championship.
Ullrich left the door open to a possible Prototype USRC entry by Audi, but Durheimer went further and stated that he was in favour of a move into the top class of the merged US sportscar series.
"I am personally in favour of Daytona Prototypes, because I think it is important to make overall wins," he explained. "Class wins [with the R8 GRAND-AM] are nice, but at the end of the day you have to win the race."
Durheimer said it was too early to say whether Audi would build its own chassis in addition to an engine or put its own bodywork on one of the three existing DP chassis on the market. He stressed that an Audi USCR car would definitely "look like an Audi".
INDYCAR ALSO A POSSIBILITY
An entry into IndyCar as an engine supplier is also possible, according to Durheimer.
"Another opportunity would be IndyCar, which I think is still very popular and the Indy 500 is an outstanding race," he said.
VW and Audi were part of the discussions that resulted resulted in the new IndyCar engine formula introduced ahead of last year.
Durheimer also underlined Audi's support for the idea of DTM America, which is due to start in 2015 or '16, and explained that it was the brand's intention to compete when the series comes on stream.
"The DTM set-up would be perfect, because we know the technology and the suppliers of the parts," he explained.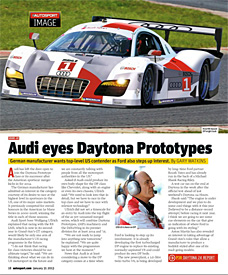 Durheimer said it was possible that Audi could compete in more than one of the categories under evaluation at some point in the future.
"Two of the three would be the maximum," he said.
The latest decision-making process at Audi follows the appointment of motorsport fan Durheimer last September and the end of its opportunity to race in LMP1 in a North American sportscar series.
LMP1 will disappear next year when the American Le Mans Series and Grand-Am merge under the USCR banner.
Durheimer explained that Audi was looking to step up its motorsport involvement in the US as it attempts to catch up with rivals Mercedes and BMW in terms or road car sales.
"We have to catch up in terms of being known as a sporty, dynamic and pushy player," he said, adding that "a solid motorsport programme" was a good way of achieving that.