Lotus says Red Bull's tyre woe its own fault as RBR lobbies Pirelli
| | |
| --- | --- |
| By Jonathan Noble | Saturday, March 23rd 2013, 20:34 GMT |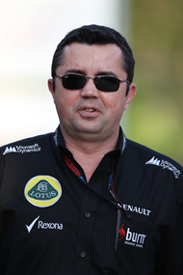 Red Bull only has itself to blame for the tyre degradation issues it is facing, says defiant Lotus boss Eric Boullier, as the champion team lobbies for changes to the 2013 Pirellis.
AUTOSPORT understands that Red Bull has begun secretly lobbying Pirelli about changing the design of this year's tyres because of the difficulties the Milton Keynes squad has faced at the first two events.
One suggestion is that Pirelli abandons its current aggressive compound choice and reverts to the 2012 tyres that teams got an understanding of last season.
With Pirelli having made it clear already this weekend that it will not change its 2013 plans at the whim of a single team, Boullier has stepped in to the situation saying Red Bull must accept full responsibility for what is going on right now.
"I can understand why they are not happy," said Boullier, when asked by AUTOSPORT about the complaints of his rival team.
"The way they designed the car is all based on the aero. This is why, when the tyres start to be an important part of the car and the car performance, they may struggle.
"They are fast on one lap but then struggle with tyre degradation, which is partially due to the way they designed the car."
Lotus caused a surprise in Australia when the tyre management superiority of its E21 car allowed Kimi Raikkonen to charge through to victory from seventh on the grid, while polesitter Sebastian Vettel struggled with his rubber and slipped to third.
Boullier said he was aware that Red Bull and some other teams were complaining - and had also voiced concerns to him – but he did not believe their calls for change would be listened to by Pirelli.
"Yes we've spoken to some teams," he said. "Some of them are happy with the situation; some others are not. It is clear the happy teams will now be trying to lobby the unhappy teams."
Boullier reckoned that the complaints from the unhappy teams would increase if Lotus again showed well in the Malaysian Grand Prix but said his outfit would resist attempts to change the tyres.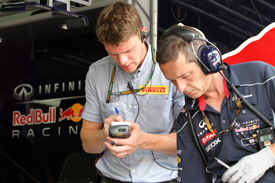 "Of course they will speak," he said. "But we are ready to fight back.
"The situation is not going to get political because one team, Red Bull, is not happy with the tyres though. The tyres are the same for everybody.
"It is true that in the past years, the tyres were a little bit more consistent, but they were to some extent invisible to the car performance. Now they are part of the game.
"We had the tyres back in Brazil so we knew what to expect for this year. The tyres are the same for everybody, so there is no political issue with this. It is up to each team to adapt to the regulations."