Australian GP: No in-cockpit warning lights for drivers
| | |
| --- | --- |
| By Edd Straw | Saturday, March 16th 2013, 03:06 GMT |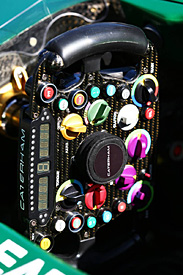 Formula 1 drivers will be left without in-cockpit warning lights in the Australian Grand Prix because of a telemetry problem.
The problem, which the FIA revealed on Saturday afternoon, also means that race control will not be able to deactivate the DRS.
"Due to reliability problems with the telemetry link between race control and the cars we will be disabling this with immediate effect," said an FIA note to the teams, which has just been issued.
The in-cockpit warning lights are colour-coded to supplement the use of trackside flags.
Usually, yellow, blue or red warning lights appear on the steering wheel display, but on Sunday drivers will have to rely only on trackside flags and warnings from their team over the radio.
The same problem also means that the blue-flag warning system, whereby race control notes every time a car passes a blue flag with penalties issued for any driver failing to heed them, cannot be used.
However, the FIA statement says that "we will do our best to give as much information from race control as we can."
The telemetry problem means that, once the DRS has been enabled after each car has completed two laps, race control will not be able to switch it off.
Usually, race control will deactivate the DRS if there is a yellow flag in the zone in question, if the safety car is deployed or if there is limited visibility.
Drivers will also have to avoid using the DRS for two laps after a safety-car restart even though the system will be usable.
Race control will still issue notifications to the teams that the DRS has been disabled in such circumstances, but the drivers will then have to be informed not to use it by radio until such time as race control says it is enabled again.
If the safety car is deployed, race control will also be unable to switch the cars into 'safety car mode' automatically.
Instead, race control will issue a notification to the teams and the drivers will have to do it manually, either when prompted or if they see the safety car board or light panels trackside.
AUTOSPORT Australian GP coverage:

FP1

FP2

FP3

Qualifying

Race

Gallery

Live commentary

Official quotes