European F3 test: Will Buller puts T-Sport and Nissan on top
| | |
| --- | --- |
| By Marcus Simmons | Saturday, March 9th 2013, 17:06 GMT |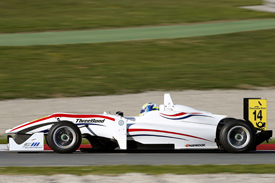 Will Buller showed why he is regarded as a dark horse for this year's Formula 3 European Championship by setting the fastest time of the two-day official test at Barcelona.
Buller headed an all-UK 1-2-3 with his ThreeBond Nissan-powered Dallara, as F3 newboy Jordan King and Harry Tincknell chased close behind in their Carlin Dallara-Volkswagens.
For T-Sport, the result backed up the promise shown on a one-off European championship outing at the Nurburgring last year with Alexander Sims.
Team boss Russell Eacott said: "We felt we had a reasonably competitive package from last year, but I was a bit surprised with this.
"Will's done really well and hasn't put a foot wrong. It was a good, solid effort. And for me what was even more impressive was the [slower] afternoon session, when he didn't use new tyres but still ended up P4."
Sven Muller did a good job with the Ma-con team's lead Dallara-VW to go fourth, while Tom Blomqvist was fastest in the afternoon session in his EuroInternational Dallara-Mercedes, making it four UK drivers in Saturday's overall top five.
Nicholas Latifi, a graduate of Italian F3, made it three Carlin drivers in the top six.
Prema Powerteam, whose drivers dominated on Friday, chose not to go for any headline-grabbing lap times, with Raffaele Marciello (eighth, behind Dennis van de Laar) the team's only man in the top 10.
Once again Double R Racing's inexperienced Italian Antonio Giovinazzi made it into the top 10, but a big shunt - from which he emerged unscathed - ruled him out of the afternoon session. Fortec Motorsport's Pipo Derani, who rounded out the top 10, also sat out the afternoon as he had completed his programme.
There was one change of driver from Friday, with American Michael Lewis replacing Riccardo Agostini at the Romeo Ferraris team. Lewis is expected to race the car in the opening round at Monza.
Combined test times:

Pos  Driver              Team/Car                   Time       Gap
 1.  Will Buller         T-Sport Dallara-Nissan     1m40.812s
 2.  Jordan King         Carlin Dallara-VW          1m40.997s  + 0.185s
 3.  Harry Tincknell     Carlin Dallara-VW          1m41.021s  + 0.209s
 4.  Sven Muller         Ma-con Dallara-VW          1m41.159s  + 0.347s
 5.  Tom Blomqvist       EuroIntern'l Dallara-Merc  1m41.191s  + 0.379s
 6.  Nicholas Latifi     Carlin Dallara-VW          1m41.195s  + 0.383s
 7.  Dennis van de Laar  Van Amersfoort Dallara-VW  1m41.208s  + 0.396s
 8.  Raffaele Marciello  Prema Dallara-Merc         1m41.308s  + 0.496s
 9.  Antonio Giovinazzi  Double R Dallara-Merc      1m41.374s  + 0.562s
10.  Pipo Derani         Fortec Dallara-Merc        1m41.379s  + 0.567s
11.  Pascal Wehrlein     Mucke Dallara-Merc         1m41.389s  + 0.577s
12.  Jann Mardenborough  Carlin Dallara-VW          1m41.401s  + 0.589s
13.  Lucas Auer          Prema Dallara-Merc         1m41.433s  + 0.621s
14.  Alex Lynn           Prema Dallara-Merc         1m41.441s  + 0.629s
15.  Mans Grenhagen      Van Amersfoort Dallara-VW  1m41.466s  + 0.654s
16.  Felix Rosenqvist    Mucke Dallara-Merc         1m41.508s  + 0.696s
17.  Eddie Cheever       Prema Dallara-Merc         1m41.771s  + 0.959s
18.  Roy Nissany         Mucke Dallara-Merc         1m41.812s  + 1.000s
19.  Felix Serralles     Fortec Dallara-Merc        1m41.882s  + 1.070s
20.  Tatiana Calderon    Double R Dallara-Merc      1m41.893s  + 1.081s
21.  Sean Gelael         Double R Dallara-Merc      1m41.946s  + 1.134s
22.  Andre Rudersdorf    Ma-con Dallara-VW          1m41.976s  + 1.164s
23.  Mitchell Gilbert    Mucke Dallara-Merc         1m41.984s  + 1.172s
24.  Spike Goddard       T-Sport Dallara-Nissan     1m41.999s  + 1.187s
25.  Josh Hill           Fortec Dallara-Merc        1m42.416s  + 1.604s
26.  Dmitry Suranovich   Fortec Dallara-Merc        1m42.813s  + 2.001s
27.  Michael Lewis       Ferraris Dallara-Merc      1m42.997s  + 2.185s
28.  Michela Cerruti     Ferraris Dallara-Merc      1m43.693s  + 2.881s