Nissan V8 Supercars debut a perfect springboard says Kelly team
| | |
| --- | --- |
| By Sam Tremayne | Tuesday, March 5th 2013, 11:22 GMT |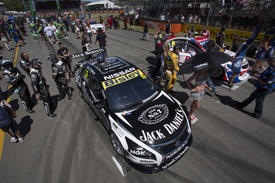 Rick Kelly believes Nissan has given itself the perfect platform to improve across the season following its V8 Supercars debut in Adelaide.
The 2006 series champion finished 11th and 14th in the two races, leaving him 11th, Nissan's best-placed driver, in the championship.
With James Moffat also taking two top-15 finishes, and Michael Caruso securing 13th in Nissan's first qualifying session of the season, Kelly believes Nissan has given itself a solid base to build on.
"The car is very physical to drive but I was really, really happy, we just didn't make any mistakes," Kelly said.
"We were stuck in there with cars that had a bit more speed than us, so we just stuck with them until they made a mistake and snuck past.
"I was really happy to move into 11th and the guys should be very proud. We've got a really solid base to move from now.
"All in all we've had a solid weekend for our first event, so we can take that and move on to the [non-championship support races for the Australian] Grand Prix, have a good go and continue to improve the cars."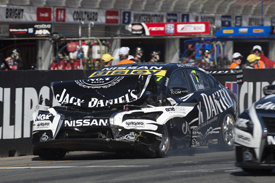 Brother Todd Kelly, who suffered power steering issues in race one and was caught up in a multi-car accident in race two (pictured), said engine power was the team's main weakness at present.
"I was really happy with the car, it was the first time I've got to settle down and actually race people," he said
"We struggled off the corners, though - I'd lose two or three car lengths out of the corner.
"It was unbelievable that with some of those guys in the midfield we could get it all back under brakes and in the middle of the corners.
"When we get on top of our straightline speed these Altimas are going to be unreal."