Casey Stoner says V8 debut more daunting than stepping into MotoGP
| | |
| --- | --- |
| By Matt Beer | Wednesday, February 27th 2013, 10:10 GMT |
Casey Stoner reckons his V8 Development Series debut in Adelaide this weekend will be more nerve-wracking than his step up to MotoGP in 2006.
The 2007 and '11 MotoGP world champion is moving into car racing with Triple 8 this year after retiring from motorcycles at the end of last season.
He said the fact he was coming into the V8 feeder category as a total novice in the sport made it more daunting than moving from 250cc to MotoGP after a life of bike racing.
"It's very different," Stoner said. "Back then I'd been racing bikes my whole life, and of course I was a little bit nervous.
"When you step up the different classes, because it's all generally the same on two wheels, it's not a big thing, but for me moving from two wheels to four wheels is something I've never done before.
"I'll be a little more nervous, for sure, than I was going into MotoGP. But I'm also very excited."

To see more images of Stoner's V8 unveiling click here
Stoner said racing on four wheels still felt 'alien' and believes it will take time and race mileage to feel truly comfortable.
"Everything's gone pretty smoothly so far but until we're on the track there's only so much we can do," he said.
"It's something very alien to me, racing a car, let alone with walls each side of me. It's not something I'm completely natural with yet, but I do want to go out and enjoy it.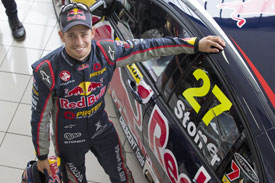 "I have no idea where we're going to be running.
"I first and foremost want to enjoy it, but, you know, I'm a competitive driver, I'll still come out and we'll see where our results end up.
"But at this point we have no real goals set, just to try and learn as much as we can, pick up what we can and see where we end up at the end of a weekend."