Drivers defend Gen 6 car amid lack of passing in Daytona 500
| | |
| --- | --- |
| By Sam Tremayne | Monday, February 25th 2013, 17:02 GMT |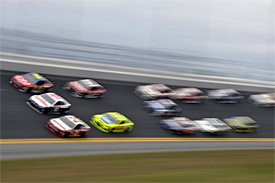 The lack of overtaking in this year's Daytona 500 should not be attributed to NASCAR's new Gen 6 racer, according to the top three finishers.
Sprint Cup organisers had hoped the new car would deliver better racing after concern about uninspiring races and events decided by fuel mileage in 2012.
Despite such hopes, this year's Daytona 500 was a largely processional affair, although Dale Earnhardt Jr and Mark Martin came close to depriving Jimmie Johnson of victory with a last-lap surge through the field.
All three men believe it is too early to judge the Gen 6 car, suggesting that driver caution may have been the major factor behind the lack of side by side action.
"That first 150 miles, everybody commits to the top," Earnhardt explained.
"There are not enough guys to organise on the bottom, [so] you get freight-trained.
"There's too much risk. You work all day on track position because you have got to be toward the front to have a shot at it."
Martin, who finished just over one tenth of a second behind draft partner Earnhardt, concurred with the Hendrick Chevrolet man's assessment.
"One of the things that made it hard to pass was nobody [would] get organised on the bottom," he said.
"I think you could because at the end, when they got a good line organised, it got to be pretty dangerous.
"I don't think it had a lot to do with the Gen 6 as much as everybody was flying and the cars seemed to like the momentum you'd get off the corner."
Johnson, who defended his lead successfully for the last 10 laps, added: "Everybody was playing the odds.
"The majority of the competitors wanted to run the top. The draft really works in numbers, [and] there's more there than the bottom.
"We've all crashed so many times and have torn up so much stuff that a lot falls on the drivers' shoulders.
"I just believe a lot of the competitors wanted to get to that last stop."