Danica Patrick thinks inexperience cost her win shot at Daytona
| | |
| --- | --- |
| By Sam Tremayne | Monday, February 25th 2013, 14:46 GMT |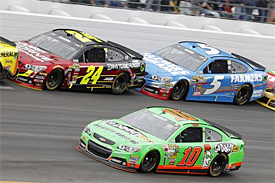 Danica Patrick believes her inexperience of NASCAR Sprint Cup pack racing cost her a chance of victory in the Daytona 500.
After securing an historic pole, Patrick spent much of the race running in the top three, along the way becoming the first woman to lead NASCAR's premier event.
On the final lap, however, she dropped down the order, eventually finishing eighth after being caught out by Dale Earnhardt Jr and Mark Martin's surge down the inside.
Patrick admitted she had been uncertain how to stage her own push for victory, a fact she put down to her relative inexperience in the pack.
"I would imagine that pretty much anyone would kick themselves and say what could I have, should I have done to give myself that opportunity to win," Patrick said.
"I think what I was feeling was uncertainty as to how I was going to accomplish that [challenging for victory].
"There was plenty of time while you were cruising along. I was thinking in the car, 'how am I going to do this?' I didn't know what to do exactly.
"I feel like that's just my inexperience. Maybe that's me not thinking hard enough; I don't know, [not] getting creative enough.
"I definitely was a little uncertain how I was going to be able to do it.
"I think Dale did a nice job [that] shows what happens when you plan it out, you drop back, get that momentum and you're able to go to the front.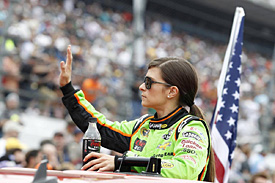 "I think he taught me something and I'm sure I'll watch the race and there will be other scenarios out there that I'll see that can teach me, too."
Race winner Jimmie Johnson praised Patrick's performance and her ability to stay with the front pack when some had predicted she would fall back rapidly.
"Being close to other competitors, door-to-door, whatever environment takes place on the racetrack, at these speeds, she was very comfortable," he said.
"[She] held a great wheel, [and] took advantage of runs when she had them.
"She made history, and in fine fashion too."