Williams technical director Mike Coughlan is certain that the vane in the FW35's exhaust outlet is legal despite similarities to a controversial part on the Caterham.
The Caterham CT03 features a vane that some rival outfits - and Coughlan - believe to be illegal even though the team itself is adamant it is permitted.
That area of the car was subject to an FIA technical directive last year designed to prevent the re-ingestion of exhaust gases.

Gallery: The Williams FW35 in pictures
Coughlan argued that because Williams's vane is in two parts, unlike Caterham's single piece, it is within the rules.
"For me, the Caterham one is really not allowed but ours is OK," said Coughlan.
"If you look at ours, it's not a single piece - it's two pieces.
"You're governed by total aperture size and [the need for it to be] a single aperture.
"Ours is a single aperture joined by a very small slot, so it's actually two pieces."
Coughlan is also confident that the team has made a step forward with its Coanda exhaust.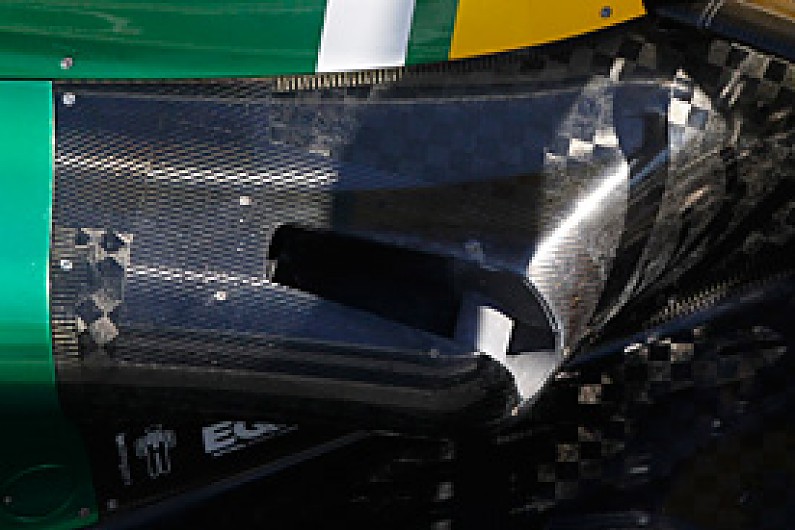 Williams ran the concept at the end of last year in free practice and found that it performed well on Friday in Brazil, but opted not to take the risk of racing with it.
Coughlan confirmed that his team had "more than" halved the power loss experienced last season thanks to the changes needed to the exhaust pipes.
"We spent quite a lot of time doing Coanda studies and ensuring that we understood the compromise between power and downforce and we've done a good job there," he said.
"That is helped an awful lot by Renault's understanding of engine mapping so we are very pleased.
"That does give us a significant step forward.
"All we were cautious of, and maybe too cautious of [last year], was the loss of power.
"You have to remember that last year people spent a lot of time doing that work and we perhaps didn't and maybe should have done.
"We tested Coanda in Brazil and maybe we could have brought that a little bit earlier."
The Williams FW35 made a successful start to its first test, with Pastor Maldonado completing a total of 47 laps on the first morning at Barcelona.