Arena suspends Ford World Touring Car programme
| | |
| --- | --- |
| By Peter Mills | Monday, January 7th 2013, 18:20 GMT |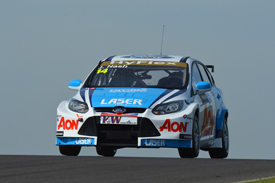 Work on Arena Motorsport's World Touring Car programme has been suspended, as the team seeks to secure major backing for the year.
Ford recently withdrew its technical support for the team, which fielded Tom Chilton and James Nash last year.
This is understood to have had a major impact on Arena, despite the manufacturer not providing any direct financial backing.
The team's 14 full-time staff have been suspended from duty for the time being.
Arena founder Mike Earle sold the team to Chilton's father Grahame's Capsicum Motorsport Group two years ago.
"The reason behind the difficulties for Capsicum Racing Ltd stem from the fact Ford has pulled all financial and economic support, which has left the team struggling," a Capsicum spokesperson told AUTOSPORT.
"This season it was always going to be hard to secure a paying driver of a top standard, so it was very important either to get the support of Ford or a big sponsor to continue at a top level.
"With Ford pulling that technical backing it has made things extremely difficult.
"The team is still looking and searching for a sponsor or alternative funding, but at the moment things have stopped a little bit as the directors have to act in the best interest of the creditors.
"Different options are being investigated, and with the right financing the team will be able to move forward fairly easily, but it is all reliant on quickly finding potential backers or sponsors to go forward."
Arena's debut WTCC season in 2012 was blighted by a disagreement with the FIA over its interpretation of the technical rules, and by the number of long-haul races hindering development opportunities for the Focus WTCC during the Autumn.
The all-new Fords did produce flashes of promise, notably in Marrakech in April when British Touring Car graduate Nash briefly led and Chilton raced in the top six.
A planned contribution to Arena's 2013 racing budget was understood to come from the sale of its limited edition Ford Focus WTCC road cars, the proceeds of which were unlikely to be available until the middle of the year.
In what Earle told AUTOSPORT was an unrelated matter, which was close to being resolved, Companies House has issued an intention to strike off Arena International Motorsport over a late filing of accounts.
Arena International Motorsport stopped trading last year, and was taken over by Capsicum Racing Ltd, trading as Arena.
AUTOSPORT understands that the restructuring at Arena will not have a bearing on single-seater team Carlin, which is also part of Capsicum.