AUTOSPORT Awards: DeltaWing wins Pioneering and Innovation Award
| | |
| --- | --- |
| By Jamie O'Leary | Sunday, December 2nd 2012, 22:39 GMT |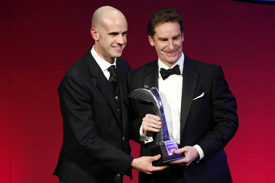 The Nissan DeltaWing has been honoured with a Pioneering and Innovation Award at this year's AUTOSPORT Awards.
Ben Bowlby's radical lightweight design was originally conceived in 2009 as a concept for the new IndyCar chassis, but when that avenue closed Bowlby and Don Panoz won admission to compete in the 2012 Le Mans 24 Hours.
Having been unveiled in 2010, the car made its track debut on March 1 in readiness for its full debut at Le Mans.
On pace alone it proved a success, posting best laptimes to rival several LMP2 teams. It retired after 75 laps after being punted into the barriers by Kazuki Nakajima in the Toyota TS030 Hybrid.
Click here for AUTOSPORT's analysis of the DeltaWing's 2012 Le Mans bid
Bolby accepted the award from Marino Franchitti, one of the project's drivers during the 2012 season.
"We set out purely to burn half the fuel of a contemporary Le Mans car but have similar performance, and through halving the mass and the drag, we did that," Bowlby said.
"Lots of people said it wouldn't work and we kept a wall of shame of notables who said so; people whose sphincters should be tightened a bit now.
"It might have seemed a bit Del Boy, but it's the coolest thing I've ever worked on."
Fundamental to the design of the DeltaWing was the aim of dramatically reducing aerodynamic drag and slashing weight and engine power without impacting upon straightline and corner speeds.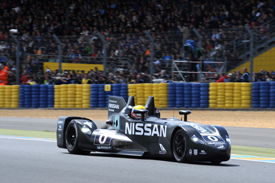 The solution was presented in an unusual tapered design, with the front boasting a narrow track and the rear a more typical layout.
Downforce is generated via the underside of the car rather than through front or rear wings, while a 40-litre fuel tank and a custom brake design help save weight.
In June 2011 it was announced that the DeltaWing had won the 'Garage 56' entry for the 2012 Le Mans 24 Hours, reserved for pioneering or experimental vehicles.
Franchitti, Michael Krumm and Satoshi Motoyama shared driving duties. The car qualified 29th but retired early in the race as a result of the damage it suffered in the crash with Nakajima.