DeltaWing unveils IndyCar concept
| | |
| --- | --- |
| By Matt Beer | Wednesday, February 10th 2010, 18:38 GMT |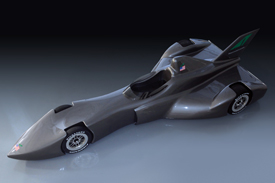 DeltaWing has unveiled its radical proposal for the future IndyCar Series chassis, which will be introduced in 2012.
The new company is one of four contenders for the new design, along with existing supplier Dallara and former Champ Car constructors Lola and Swift.
The DeltaWing programme has generated huge anticipation as it was long-rumoured to be the most radical of the concepts vying for the IndyCar deal, and because it is backed by a number of leading teams, having been designed by Chip Ganassi Racing's Ben Bowlby, formerly Lola's chief designer.
The proposal was officially unveiled at the Chicago Auto Show today, having been in development since January 2009. Its striking shape features an extremely narrow front end and wide rear, and tyres largely enclosed by bodywork. Its unusual body style has been designed specifically to encourage close racing and to minimise aerodynamic disturbance in the car's wake.
DeltaWing chief executive officer Dan Partel believes the car could revitalise American single seater racing if it is accepted by the Indy Racing League.
"Today marks a fundamental shift in how race fans and the general public will view all racing cars in the future; this is a game changer," he said. "This radical prototype takes open wheel racing to a new level from both an engineering standpoint and the overall spectator experience."
The DeltaWing is designed to achieve speeds of 235mph with engines with only half the power and fuel consumption of the current IndyCar Hondas, thanks to a large reduction in weight and aerodynamic drag.
"The first prototype car will be powered by a 2.0 litre four cylinder turbocharged engine," said a DeltaWing statement.
"Final horsepower figures will be based on the car's performance on the track, but by using state-of-the-art computer modeling, it is anticipated that the engine will need to produce approximately 300 horsepower to attain the performance targets and will run over 4,000 miles before requiring a rebuild, a dramatic 100 per cent improvement over the current engine."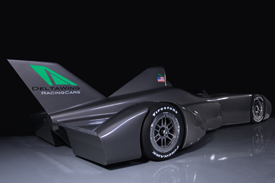 Partel said the engine characteristics had been developed with environmental concerns in mind.
"We are confident that this car will outperform the current generation IndyCar and do it in a more environmentally friendly way," said Partel.
"Auto racing has always been a powerful marketing tool for propelling new technology into the hearts and minds of consumers. This new car was specifically designed to be more closely aligned with the new reality of automobiles that are arriving on the road today.
"Consumers are choosing cars that provide impressive performance capabilities but with greater fuel efficiency. This prototype IndyCar features those same characteristics, making it much more relevant to the public and the auto industry.
"It is our goal to make participation in the series highly attractive to the automobile manufacturers as well as the fuel, technology, information and entertainment corporate sectors."
DeltaWing plans to start testing its first prototype in August this year.
Bowlby added that the new car should also achieve a massive cost reduction for IndyCar teams.
"As we design the DeltaWing prototype, safety, efficiency, value and cost are our main priorities," he said. "The goal is that more teams and drivers will have the opportunity to compete in the IZOD IndyCar series.
"At this point we anticipate a complete car with engine will sell for $600,000."
Bowlby does not want the DeltaWing to become a spec chassis for the IndyCar Series, and wants multiple chassis builders to be able to enter cars built within the rules framework established by his concept.
"Just as we hope to see multiple engine suppliers with different configurations and displacements, we also hope to create a framework that will allow us to see a varied and ever changing grid of racing machines in a sustainable, cost controlled and high value manner," he said.