AUTOSPORT Awards: FIA Medical Teams wins Pioneering and Innovation
| | |
| --- | --- |
| By Sam Tremayne | Sunday, December 2nd 2012, 22:35 GMT |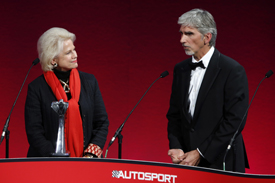 The FIA Medical Team has won a Pioneering and Innovation Award at the 2012 AUTOSPORT Awards in London.
The award also honours the life, work and passion of Professor Sid Watkins, who served as the FIA Formula 1 Safety and Medical Delegate for 26 years, and died in September this year.
Watkins' widow Susan Watkins collected the award from 1996 Formula 1 world champion Damon Hill.
"I'm honoured, and very proud," Susan Watkins said.
"Sid was an extraordinary man. In hospital they called him Saint Sid, and he transferred all that energy and determination to motorsport, as did the pioneers in that revolution, Louis Stanley and of course Sir Jackie Stewart."
Hill added: "Sid was an incredible larger than life character: he watched people risk their lives, if need be leapt in and then on Monday went back to work and drilled people's skulls.
"He knew everyone, and you could always go and have a great chat with him. He was the last person you would want to see professionally, but the first person you'd just want to have a chat with.
"F1 has made incredible progress, and to see where it came from, and where it has now got to, is a testament to Sid's incredible determination and work."
Watkins' unstinting drive was instrumental in what has been a complete overhaul of F1 safety procedures over the past decades. As late as the 1980s medical provision at grand prix events could be shockingly poor, lacking formalised procedures, equipment, facilities and rapid response capability.
Watkins and the FIA Medical Team brought much-needed and potentially life-saving change, including the mandating of medical teams, specialised equipment and set procedures (such as the medical car following the field round for the first lap).
Modern circuits have, as a result of such improvements, several tiers of medical staff that can be rapidly escalated if and when necessary. Specialist medical teams based around the circuit now ensure rapid response, potentially crucial in serious accidents.
Medical extraction teams, ambulances, a medical helicopter and a chief medical delegate are all mandatory, as is a fully-equipped medical centre at each circuit.
It is through unstinting work and care that such advances have been made possible, immeasurably improving motorsport safety.