MG team boss Ian Harrison welcomes BTCC rules tweaks
| | |
| --- | --- |
| By Kevin Turner | Wednesday, November 21st 2012, 10:39 GMT |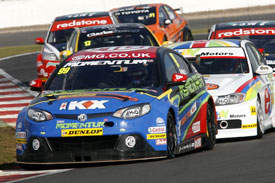 MG's British Touring Car team boss Ian Harrison has welcomed the championship's rule changes for 2013.

A number of regulation tweaks were announced last week, including amendments to the boost equalisation system and driver penalties, while the use of a soft tyre was also introduced.

Harrison, whose Triple Eight squad ran the MG6s of Jason Plato and Andy Neate this season, believes keeping the rolling turbo boost adjustments is correct.

"I think you've got to have something - all the engines are different and if you've got one that's not as good for development you're in trouble for a whole season," he said.

"The biggest thing that needed to be looked at was the amount it went up and down by – it was too big. The principal of it is good, but it needs finesse adding to it, which I think the smaller adjustments will bring.

"If you look at someone like [Eurotech's] Jeff Smith, he's been penalised by [fellow Honda Civic driver] Gordon Shedden's performances. I think giving individual drivers different boosts is probably a step too far, but doing it by team has got to be a step in the right direction.

"This is all about putting on a show – it's not purist racing – and we've got to accept that."

Harrison also believes the introduction of soft tyres could spice up the show.

"It throws something else into the works and gives some more interest to the fans," he said. "Everyone raves in F1 about the racing thanks to the different tyres, so why shouldn't we have that?"

Like several team bosses, Harrison has also welcomed the grid penalty for persistent driving offences.

"You can't really ban drivers because of things like contracts," he added. "This is less draconian but should get everyone focusing on it."