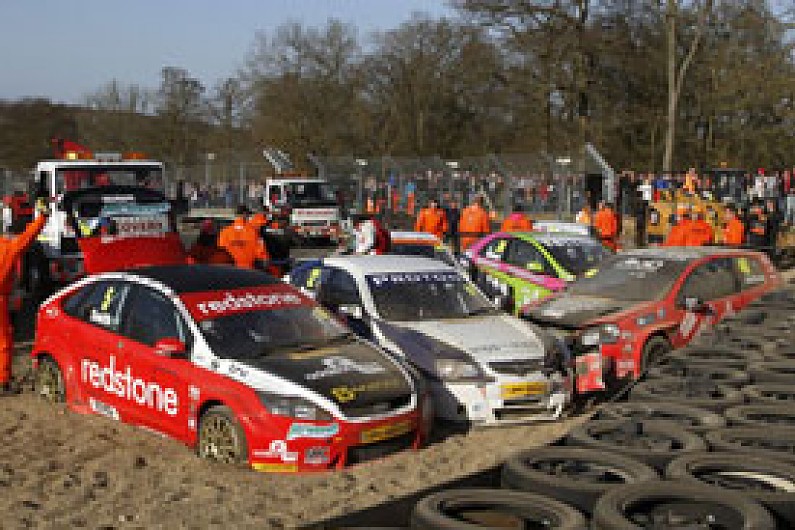 The British Touring Car Championship has introduced additional penalties for bad driving in the series.
Fines and licence points have chiefly been used to punish poor driving in the series in recent years, but some paddock insiders felt standards have still dropped too low at times.
Now, from 2013, any driver who receives three penalties for on-track driving discipline offences, including verbal warnings, will be relegated six grid spots on the third penalty.
The penalty will apply in the first available race after officials have issued a driver with the third sanction.
AUTOSPORT says
Features editor Kevin Turner
Having been disappointed at yesterday's boost-adjustment announcement, I have to say that this extra driver penalty is a good idea.
Some of the driving standards in the BTCC have been woeful in recent times, and there have been those that have suggested the penalties don't go far enough.
Fines and licence points generally don't do much to deter drivers, but an instant and quantifiable impact on their chances in the next race just might.
Combined with the reversal of race positions in certain instances, which the series already does, this could reduce a driver's ability to score points. And that can hurt.
The only question is will this go far enough? One former BTCC champion suggested to AUTOSPORT during the season that putting offenders 'on the bench' for a race would be a real deterrent, which is undoubtedly true.
Only time will tell if this move is enough, but it's a step in the right direction and at least shows that the championship is taking the issue of driving standards seriously.