Mark Miles replaces Jeff Belskus as CEO of Indianapolis track owner
| | |
| --- | --- |
| By Sam Tremayne | Tuesday, November 20th 2012, 16:06 GMT |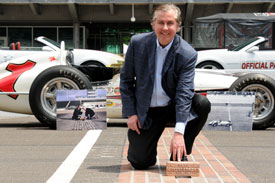 IndyCar's interim CEO Jeff Belskus has been replaced by Mark Miles as the chief executive officer of Indianapolis Motor Speedway owner Hulman & Co.
The move will allow Belskus to devote more time to his IndyCar duties, which he assumed following Randy Bernard's resignation in October.
Belskus said he has been invigorated by his short-spell at the IndyCar helm, and was eager to help develop the series' long-term future.
He previously told AUTOSPORT that building IndyCar's fanbase would be key to the future of the series.
"We see opportunities to continue the growth of IndyCar, which I view as an exciting challenge," he explained.
"My passion is rooted in the Indianapolis Motor Speedway and IndyCar, and I have been energised by the opportunity we have in the short and long term for both organisations.
Belskus predicted Miles, with whom he has served on the Hulman & Co board for several months, would prove a valuable appointment.
"Mark and I have known each other for many years and have worked together closely since he joined the Hulman & Company board," he said.
"Mark brings a wealth of experience and has a good understanding of the opportunities and challenges that face our business.
"I believe he will be very helpful in bringing new and successful ideas to the company."
IMS chairman Mari Hulman George said the new appointment would enable Belskus to fully focus on his IndyCar's long-term health.
"The racing components of our business are very important to our company, and Jeff is uniquely positioned to help lead us into 2013 and beyond as he has complete understanding of our sport and our 2013 plan and an excellent relationship with our key stakeholders," George said.
"By allowing Jeff to focus on the racing businesses and significantly less on the other business units, we are clearly aligning our executive management team to move the company forward."
Miles spent 15 years as the CEO of the ATP, the governing body of men's international professional tennis, before serving as chairman of Indianapolis's 2012 NFL Superbowl host committee.