Interim IndyCar chief says building fanbase key to series' future
| | |
| --- | --- |
| By Mark Glendenning | Friday, November 2nd 2012, 00:01 GMT |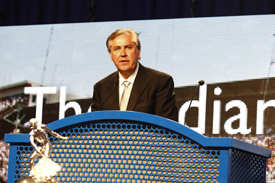 IndyCar CEO Jeff Belskus says that growing the series' fanbase has to be the first priority of the new leadership regime following the departure of Randy Bernard last week.
Belskus, who has taken on the series CEO role during the process of finding and installing a permanent replacement for Bernard, told AUTOSPORT on Thursday that the work needed to develop the series was dependent upon drawing more fans into the sport.
"Job one is growing our fanbase," he said. "We've got to grow that; we've got to create awareness with fans; we've got to engage them. I think a lot of things will flow from that in terms of growth of the series, growth of TV ratings, and things along those lines."
Belskus admitted that it has been a chaotic week since Bernard and the board of series owner Hulman & Co decided to part ways, but said that the process of finding a new full-time CEO would not be rushed.
"It has been busy," he said. "We've been reaching out to our key stakeholders and others involved with the IndyCar Series, and having a lot of meetings, and focused on the upcoming season and our plan for the upcoming season.
"We're committed to a strong IndyCar Series, and we're excited about the future of the IndyCar Series. We've been racing here in Indianapolis for about 100 years, and we're going to be racing here for another 100 years.
"We are going to conduct a search [for a new CEO], and I think it's premature at this point to say what that candidate list might look like, or who might be on it and who might not be on it. But I am CEO of the IndyCar Series for now and for the foreseeable future."
Asked whether the list of names could include his, Belskus - who has been CEO of the Indianapolis Motor Speedway for three years - replied, "It might".
News of Bernard's departure was greeted with dismay from fans and some quarters of the series' unusually factionalised media, with particular criticism being directed toward the board for allowing Bernard to leave without having a transition plan in place.
This was echoed by respected team owner Roger Penske, who was quoted as saying, "The board continues to show poor judgement. There is no future plan. No business can run with a senior management change every two years."
This criticism was rejected by Belskus, although he did seek to allay fans' concerns.
"We do have a replacement in place, and it's me," he said. "I'm now the CEO of the IndyCar Series. It's a position I've held previously, so I'm engaged and on it, and energised by what I'm seeing.
"[And] I'm thankful for our fans. They're passionate about our sport. They've emailed us, and we're working on responding to each of them. I want to let them know that our priority is to grow our sport and make IndyCar as exciting as ever."
Despite the fact that Belskus is technically running the series on a caretaker basis, he is insistent that the lack of a permanent CEO will be no obstacle to making plans for the long-term.
"I think we can accomplish a lot," he said. "We're giving a lot of thought to a longer-term, three-to-five year sort of vision for the healthy growth of a sustainable sort of IndyCar Series, and putting a lot of effort into executing the plan for 2013, which is more immediate.
"Parts of that plan have already been started, and even executed – an example is the schedule. That's been announced already. But other parts are still a work in progress. We're going to accomplish what we can accomplish. We're going to roll up our sleeves and get after it."
Belskus believes that the board has a very clear idea about what sort of qualities the person chosen to take IndyCar forward will need to possess.
"We're looking for leadership experience – experience as a CEO or COO," he said. "Great communication skills. The ability to work with all of the different stakeholders that we have in the series. We'd like sports experience, and motorsports experience would be considered a plus. I don't think it's absolutely necessary, but it would be considered a plus.
"We want a strategic thinker; somebody who can think strategically and implement strategy. And we're looking for a promotional mindset as well, in terms of creative ideas to advance the series."
One of Bernard's perennial struggles lay in securing the support of the team owners, and Belskus said that this formed part of another, broader requirement of whoever is selected for the CEO role.
"It is critical to be able to work with our key stakeholders, and we have a lot of key stakeholders – the car owners, the drivers, the track owners and promoters, sponsors, and fans," he said.
"You've got to be able to balance all those groups and balance their desires. You need to be able to communicate with all of those groups effectively, as well."
He also did not rule out the potential for further organisational changes within the series, although he said that he has confidence in the current structure.
"We have a good team in place at the IndyCar Series," he said. "I'm sure whoever ends up in the permanent role is going to want to make their own mark and build their own team, and that's very understandable – that's what CEOs do. But we have a very good team in place today."
Belskus previously held the position of IndyCar interim CEO between Tony George's departure in mid-2009 and Bernard's appointment in February 2010. Bernard was three years into a five-year contract when he left the series last Sunday.