WTCC champion Rob Huff felt 'horrific' after race-one crash in Macau
| | |
| --- | --- |
| By Matt Beer | Monday, November 19th 2012, 09:20 GMT |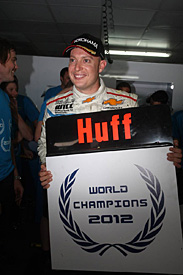 Newly-crowned World Touring Car champion Rob Huff admitted he felt 'horrific' in the lead-up to his title-clinching race in Macau after crashing out of the lead of race one.
Huff came into the finale weekend with a 35-point cushion over Chevrolet team-mate and nearest rival Alain Menu, and then added the five bonus points for pole.
That meant he could have wrapped up the title in the first race of the Macau event.
But instead, Huff hit the barriers just after taking the race lead. Menu went on to finish second behind fellow Chevrolet driver Yvan Muller, bringing both Huff's team-mates firmly back into championship contention.
Huff was able to rectify the situation by fighting through to second in race two.
"I really made things difficult for myself in race one when I hit a wall," said Huff.
"I guess I wanted to ensure the entertainment until the very last moment. It was a stupid mistake that could have cost me a lot.
"The boys did a fantastic job to repair the car for race two and I must thank all the mechanics, including Alain's and Yvan's crews who also helped out. This is proof of the fantastic team spirit.
"The time in between races was really long and horrific. I preferred to stay in the car and reflect on what not to repeat.
"Luckily, things went smoothly in the second race."
Chevrolet is pulling out of the WTCC before 2013. Huff has been with the RML-run team since the outset of its programme, having been picked to join the much more experienced Menu and Nicola Larini in 2005 following an impressive British Touring Car debut season with SEAT.
"It is going to take a while before I realise I'm the new world champion," Huff admitted. "I guess it's something that has to sink in slowly.
"It's a perfect end to a fantastic venture. Eight years ago, Chevrolet and RML took a gamble on me and I hope I proved them right."