Chevrolet announces it will leave the WTCC at the end of the 2012 season
| | |
| --- | --- |
| By Pablo Elizalde | Wednesday, July 4th 2012, 15:39 GMT |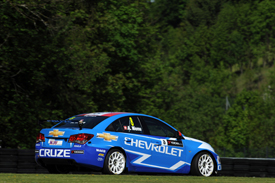 Chevrolet will leave the World Touring Car Championship at the end of the 2012 season, the manufacturer said on Wednesday.
Chevrolet said the decision comes after a strategic review of its motorsport and marketing programmes.
The American car maker joined the WTCC in 2005, and its eight-year programme has resulted in two drivers' and constructors' championships in 2010 and 2011, including 59 race wins.
Frenchman Yvan Muller is currently leading the standings this season.
Chevrolet said it announced its decision mid-season in order to allow its race drivers and race partner RML to plan for the future.
Chevrolet is the only full manufacturer entry in this year's WTCC.
"We are extremely proud of the two double world titles we have won in the series and of the 59 victories over the last eight years," said Susan Docherty, President and Managing Director of Chevrolet Europe.
"The WTCC has been a powerful brand platform and showcase for Chevrolet in Europe and markets throughout the world. Chevrolet and RML now aim to go out on a high, by securing our third world title together."
Eric Neve, Chevrolet Motorsport Manager added: "Naturally, making this announcement comes with very mixed emotions. This has been an amazing journey from our first season through to the double championship wins with the Cruze.
"We are extremely proud of the success we have achieved, including giving GM its first FIA World Champion titles, and would like to thank and pay tribute to the WTCC, RML, our drivers, partners and fans. We are now all focused on the remainder of season and bringing home the third double championship titles for Chevrolet."