US GP: Teams say lapping traffic will be tough on Austin track
| | |
| --- | --- |
| By Edd Straw | Sunday, November 18th 2012, 09:43 GMT |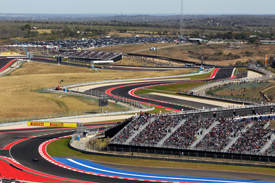 Teams predict that backmarkers will play a key part in the United States Grand Prix, with the high-speed section from Turns 3 to 9 allowing little room to overtake.
Several times during practice, faster cars became caught behind slower traffic in this section, with Sergio Perez hitting Charles Pic at Turn 7 on Saturday morning.
Pedro de la Rosa, whose HRT was almost 5.5 seconds off Sebastian Vettel's pole position time in qualifying, believes that the speed differential will be difficult to manage in that section of the track.
"That first sector is terrible for moving out of the way," de la Rosa told AUTOSPORT.
"There is only one line and the moment you are offline, there is no grip.
"There have been many times this weekend when I've seen someone coming in the mirror and I would rather not move and instead just back off the throttle a bit and hope they find a gap because if I move to one side, I might end up collecting him.
"It's going to be tricky. You have to judge the speed of the other car and back off so he arrives in places where you can move to one side and let them past properly."
Williams driver Pastor Maldonado, who will start 10th, expects to hit traffic during the race and agrees that the difference in speed is bigger than usual during Turns 3-9.
"It's a huge difference in this track," he said. "We need to stay away from them from a strategy point of view.
"If you get behind one, you can lose two or three seconds in a couple of corners so it will be difficult and we need to manage the gaps."
Marussia drivers Timo Glock and Charles Pic line up 19th and 20th on the grid, but team president Graeme Lowdon is confident that the situation can be managed in a satisfactory manner.
He suggested that the bigger problems might come when the frontrunners encounter midfield cars that are about to be lapped.
"We have spent three years managing this side of it and we're pretty good at it," he told AUTOSPORT.
"My observation over the last year or so is that the big problems happen not with the teams who qualified near the back, but with the quicker guys who are out of sequence and aren't used to? dealing with getting lapped so much.
"Our guys are very good at managing the traffic. I'm comfortable that we won't get in the way."