Johnson: Keselowski fight in Texas right on the edge
| | |
| --- | --- |
| By Matt Beer | Monday, November 5th 2012, 17:40 GMT |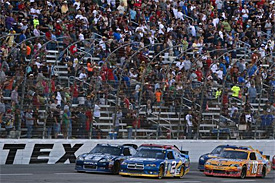 Jimmie Johnson reckons his NASCAR Sprint Cup title rival Brad Keselowski took things 'right to the edge' in their battle for the Texas race lead, but did not object to Keselowski's driving.
Johnson and Keselowski made contact as they fought after the penultimate restart, where Johnson's Hendrick Chevrolet had gone around the outside of Keselowski's Penske Dodge.
Just as Johnson seemed to have completed the pass successfully, Keselowski surged back down the inside at Turn 4, where they banged doors and ran wide. Johnson would grab first place for good at the next restart.
"The #2 car was coming up the track and took us both to the fourth and fifth lane," said Johnson.
"Fortunately we stayed one-two and didn't crash, didn't lose a spot on the racetrack.
"I knew he was serious about the race lead before that, and that took it to a new level."
Despite being surprised by Keselowski's aggression, Johnson underlined that it had stayed within acceptable limits.
"Brad, after the race, came into victory lane and shook my hand," he said. "The cool thing is, we walked right up to that line and got right to the edge and then it stopped."
Keselowski said the fact they both finished proved there was nothing wrong with his move.
"I raced hard, and I'm sure someone would say dirty," he said. "Hell, any time you run close to certain guys you're racing them dirty according to some people.
"But I raced hard, and we both came back around, so there's something to be said for that."
He admitted that he was more circumspect when Johnson attacked again on the penultimate lap.
"I felt like we were just going to wreck," Keselowski said. "I wasn't looking to be the guy that wrecked him poorly. That's just not the way you want to run a race, and not the way I want to win a championship.
"The only choice I had was to put ourselves in a bad position like I did before. I felt lucky to survive that one."
Johnson did warn Keselowski that had his driving gone over the edge, he would have had no qualms about retaliating.
"If he was taking me out, you can count on the fact that I would've been on the gas and trying to take him with me," said five-time champion Johnson.
"It just doesn't need to come down to that."
The Texas result, which was Johnson's second straight win, gives him a seven-point lead over Keselowski with two rounds to go at Phoenix and Homestead.