Texas NASCAR: Jimmie Johnson defeats title rival Brad Keselowski
| | |
| --- | --- |
| By Diego Mejia | Monday, November 5th 2012, 03:58 GMT |
Jimmie Johnson overtook title rival Brad Keselowski in a green-white-chequered finish to claim his fifth win of the NASCAR Sprint Cup season on Sunday at Texas Motor Speedway.
Five-time champion Johnson, who had led nearly half the race distance before the final green flag, drove around the outside of Keselowski with one lap remaining.
That followed a close battle at the previous restart where the Penske racer managed to remain ahead while resisting a fierce, fender-banging, attack from the Chase leader.
Keselowski's #2 Dodge had emerged up front from the final round of stops after crew chief Paul Wolfe made the call to change two tyres while the rest of the leaders took on a full set for the last 21 laps.
This attempt to make the most of clean air initially paid off but Johnson's final attack, squeezing Keselowski on the inside at Turn 1 to get him loose, sealed back-to-back wins that allowed him to extend his championship lead.
In the process Johnson gave Chevrolet its 700th Cup win a week after helping deliver yet another manufacturers' title for the bow tie brand with his Martinsville victory.
Keselowski, who put on his best performance ever at the mile-and-a-half track, believed the final restarts gave Johnson a shot at his lead but reckoned his two-tyre change would have probably cost him in a longer green-flag run as well.
"I think the restarts made the difference," said Keselowski. "Jimmie probably would have got me with an extended amount of laps to go. But with only five or six to go when we had the lead, I felt pretty good about it.
"But getting that last yellow, I felt like restarts are like rock, paper, scissors. Eventually you're going to lose them. It's just a matter of time. There's always time to counteract the strategy. To win two out of three, I felt lucky to do that. Obviously, I didn't win the last one that counts."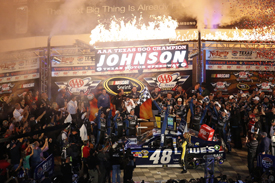 Joe Gibbs Racing's Kyle Busch was the only other car able to keep up with the leading title contenders, though ultimately he was only watching from behind as the duel unfolded in front of him. Busch complained about Keselowski's restarts in the decisive stages.
"I think Brad went early the last two times," said Busch. "From my vantage point, anyway, from compared to where the line starts you're supposed to go within the zone, and I felt like he was a little early on that... But from my experience with Brad, it doesn't surprise me."
Roush Fenway's Matt Kenseth finished fourth ahead of reigning champion Tony Stewart and Michael Waltrip Racing's leading title contender Clint Bowyer, who lost ground in the final stops after running among the top five for most of the distance.
He has dropped 36 points behind Johnson in the standings as a result while Hendrick's Kasey Kahne is now a distant 58 points adrift from the Chase leader after finishing a lapped 25th.
Results - 335 laps:

Pos  Driver              Team/Car                         Time/Gap
 1.  Jimmie Johnson      Hendrick Chevrolet           3h41m30.000s
 2.  Brad Keselowski     Penske Dodge                     + 0.808s
 3.  Kyle Busch          Gibbs Toyota                     + 0.966s
 4.  Matt Kenseth        Roush Fenway Ford                + 1.328s
 5.  Tony Stewart        Stewart-Haas Chevrolet           + 1.917s
 6.  Clint Bowyer        Waltrip Toyota                   + 2.371s
 7.  Dale Earnhardt Jr   Hendrick Chevrolet               + 2.780s
 8.  Kurt Busch          Furniture Row Chevrolet          + 2.883s
 9.  Kevin Harvick       Childress Chevrolet              + 3.117s
10.  Greg Biffle         Roush Fenway Ford                + 3.361s
11.  Joey Logano         Gibbs Toyota                     + 3.399s
12.  Ryan Newman         Stewart-Haas Chevrolet           + 3.545s
13.  Martin Truex Jr     Waltrip Toyota                   + 3.923s
14.  Jeff Gordon         Hendrick Chevrolet               + 3.938s
15.  Aric Almirola       Petty Ford                       + 4.154s
16.  Carl Edwards        Roush Fenway Ford                + 4.280s
17.  Sam Hornish Jr      Penske Dodge                     + 4.337s
18.  Jamie McMurray      Earnhardt Ganassi Chevrolet      + 4.508s
19.  Jeff Burton         Childress Chevrolet              + 4.605s
20.  Denny Hamlin        Gibbs Toyota                     + 4.649s
21.  Casey Mears         Germain Ford                     + 4.855s
22.  Trevor Bayne        Wood Brothers Ford               + 5.044s
23.  Travis Kvapil       BK Toyota                        + 5.224s
24.  Danica Patrick      Stewart-Haas Chevrolet           + 5.271s
25.  Kasey Kahne         Hendrick Chevrolet                + 1 lap
26.  Landon Cassill      BK Toyota                        + 2 laps
27.  Paul Menard         Childress Chevrolet              + 3 laps
28.  David Ragan         Front Row Ford                   + 4 laps
29.  Mark Martin         Waltrip Toyota                  + 6 laps*
30.  Scott Speed         Leavine Ford                     + 7 laps
31.  Ken Schrader        FAS Lane Ford                    + 7 laps
32.  Marcos Ambrose      Petty Ford                     + 25 laps*
33.  Bobby Labonte       JTG Daugherty Toyota            + 51 laps
34.  Juan Pablo Montoya  Earnhardt Ganassi Chevrolet     + 56 laps

Retirements:

     David Gilliland     Front Row Ford                   225 laps
     AJ Allmendinger     Phoenix Chevrolet                107 laps
     Josh Wise           Front Row Ford                    41 laps
     Michael McDowell    Parsons Ford                      37 laps
     Dave Blaney         Baldwin Chevrolet                 37 laps
     Joe Nemechek        NEMCO Toyota                      33 laps
     Mike Bliss          Humphrey Smith Toyota             32 laps
     JJ Yeley            Max Q Chevrolet                   10 laps
     Reed Sorenson       Humphrey Smith Toyota              6 laps

* Not running at finish