Indian GP: Overnight changes paid off for Button in qualifying
| | |
| --- | --- |
| By Sam Tremayne | Saturday, October 27th 2012, 11:21 GMT |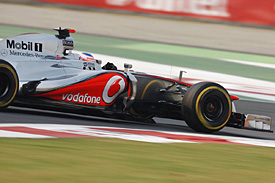 Jenson Button reckons the overnight changes which boosted McLaren in qualifying have also given the team a chance to fight Red Bull in the race.
Both Button and Lewis Hamilton had struggled on the Friday of the Indian Grand Prix, particularly on low fuel runs.
Large-scale changes overnight led to a jump in performance on Saturday however, with Hamilton and Button locking out the second row of the grid, both getting within four tenths of Sebastian Vettel's pole time.
Button believes that improvement could also be evident across a race distance.
"The car was pretty yesterday, but we improved it a lot overnight," Button explained.
"Coming here it was very difficult to get the tyres into their operating window, but we have finally found a place which works for us, so we're pretty happy.
"We got it together today, and hopefully the improvements we made will work on high fuel as well as they have on low fuel.
"We still need improvements in the race to really challenge the Red Bulls, but we can do a lot from [the second row]."
Button added that he couldn't realistically have hoped for more than the second row given the team's Friday form, but admitted to a degree of disappointment about being slower in Q3 than he was in the second qualifying session.
"I'm pretty happy with what we have done - it couldn't have been much better," he said.
"We should be happy with what we have done today as a team - we're not far off the Red Bulls and in front of the Ferraris.
"Obviously you want to be higher when Q2 went so well, but I didn't quite get it together in Q3. I'm still happy to be on second row though.
"I've really struggled to get the tyres working on lap one, which is pretty normal to be fair, so I went for a different strategy to most, did a three-timed lap run which really worked for me Q2 but in Q3 just didn't have quite as good a balance.
"I guess the circuit gripped up, but we didn't expect it that much.
"It wasn't quite the perfect lap, but I'm pretty happy to be fourth. We've put ourselves in a pretty good position."