FIA president Jean Todt says he 'will not play dictator role'
| | |
| --- | --- |
| By Sam Tremayne | Monday, October 22nd 2012, 09:57 GMT |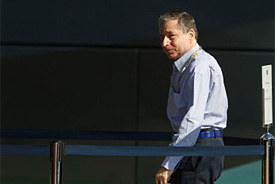 Jean Todt insists his role as FIA President should not be a dictatorship which 'erodes' the value of Formula 1.
On the eve of a Paris meeting between the FIA, FOM and the teams, aimed at framing a new Concorde agreement, Todt said the FIA would not surrender control of key issues but that it must also remain 'respected'.
Max Mosley, whom Todt replaced as FIA president, expressed his belief on Friday that Todt must become 'more confrontational' in order to achieve what he wants with the sport's future direction.
Todt however is adamant such an approach is not needed or warranted.
"For me, the FIA must have a bigger impact, not erosion," he told the Financial Times.
"I'm not a dictator trying to control. The contribution and the role of the FIA has to be protected, to be respected."
Ahead of Tuesday's meeting, Todt confirmed that the FIA was chasing a larger share of the sport's revenues under the terms of the new agreement.
"If you sometimes read the figures, F1 is a $2bn [revenue] business or $1.5bn," he explained.
"The FIA is a non-profit organisation, but we need to run our organisation. We need to encourage the development of the sport, we need to encourage development of action for road safety.
"We cannot be a federation without having any revenue. So where do we find our revenues?"
While Todt's reign has been outwardly less turbulent than Mosley's, there has been friction over issues such as cost-cutting and 2014 engine rules.
He said the FIA's job was to steer the sport into a more responsible position, both financially and environmentally.
"It makes me smile when I read that we are going to lose control. I will never allow things which are under our responsibility to be dealt with by anybody else," he explained.
"Sometimes it's a downside of F1. People live in their little environment, in their little kingdom, and they don't see what is happening.
"But the world is changing. We must be ambassadors of the sport, ambassadors of the industry."
Todt admitted that the financial health of teams was still "fragile" because of the economic climate, but he said he had been underwhelmed with current cost-cutting drives, adding: "I will expect more drastic proposals to reduce the costs."