Don Panoz says DeltaWing 'has single-seater future'
| | |
| --- | --- |
| By Sam Tremayne | Monday, October 15th 2012, 16:44 GMT |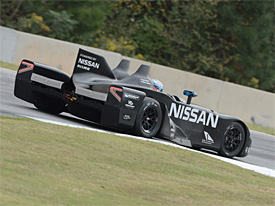 Don Panoz believes the DeltaWing can still have a future in single-seater competition.
The car was originally conceived as a replacement for last year's IndyCar chassis, but after losing out to the Dallara DW12 found its way into competition via the Le Mans 'Garage 56' concept.
Panoz reckons there could still be an appetite for the car, which has raced as the Nissan DeltaWing in sportscars this year, to be used in single-seaters.
"The original design was created as a single-seater/open wheel car and the concept certainly can still be used in that format," he said.
"At our facility here in Braselton we've mass produced cars in the past for Champ Car, the Superleague Formula series and other junior formula. We certainly have the capability.
"When you look at the enormous number of single seater championships around the world - especially in Europe – we know there is interest in making their championship stand out from the crowd.
"While the die-hard fan can obviously tell the difference between Formula 1, IndyCar, Indy Lights, GP2, World Series by Renault or Formula 2 – the casual fan has no idea.
"That is where the potential growth in the sport is – attracting new fans, younger fans.
"Every youngster that ever sees the DeltaWing is blown away by it. We'd love to see a single seater championship of DeltaWings do battle on track one day."
The DeltaWing faced an uncertain future following its Le Mans bow, but was eventually cleared to compete in next year's American Le Mans Series and the new championship that will result from the merger of the ALMS and Grand-Am in 2014.
Panoz said the decision had provided a massive boost to the company, adding: "Now we know the car can compete for wins and championships, the game has changed quite significantly.
"It was obviously very difficult for a potential customer to purchase a car without knowing where they could race it. That hurdle has now been cleared.
"The phone began to ring over the weekend after the ALMS/IMSA announcement and we're already dealing with enquiries from prospective customers."