IndyCar: Detroit circuit to be modified to promote overtaking
| | |
| --- | --- |
| By Mark Glendenning | Friday, October 12th 2012, 06:06 GMT |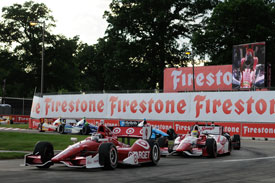 Detroit's Belle Isle circuit will be modified to increase opportunities for overtaking when the IndyCar series returns to the track next June.
The street circuit will be the first of three venues to host doubleheader race weekends during the 2013 season, with two full-length races scheduled across the June 1-2 weekend.
Organisers have opted to revert to the configuration used between 1997 and 2001, with an extension added to Turn 3 in the hope of promoting better racing.
Sections of the track surface are also being replaced after they were torn up during this year's race, forcing a two-hour stoppage. Around 80,000 square feet of concrete and 3000 square feet of asphalt will be installed.
"It will be a more suitable racetrack for us, with more passing opportunities," said Sebastien Bourdais, who competed for Dragon Racing this year.
"It's all good news. (Event chairman) Bud Denker is planning quite a few more things to improve passing, which is a sign of commitment. What I had to say as a suggestion, he already had thought of."
The modifications will extend the track length to 2.346 miles; a quarter of a mile longer than the 2012 configuration. This year's race, which was won by Scott Dixon, marked IndyCar's return to the circuit after a three-year absence.