Japanese GP: Michael Schumacher downbeat about race chances
| | |
| --- | --- |
| By Edd Straw | Sunday, October 7th 2012, 05:08 GMT |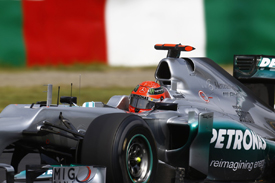 Michael Schumacher has low expectations for the Japanese Grand Prix after qualifying his Mercedes 23rd for his final race at Suzuka.
The 43-year-old, who announced his retirement from Formula 1 on Thursday, ended qualifying in 13th place after only just making the cut for Q2 having opted not to use soft tyres in Q1.
But as he knew before qualifying that he would be hit with a 10-place grid penalty for rear-ending Jean-Eric Vergne in the Singapore Grand Prix two weeks ago, his priority was to save rubber.
Schumacher believes that it would have been possible to scrape into Q3, but it could not have been any better than that.
"It's not very promising," he said when asked by AUTOSPORT what is achievable in the race.
"Looking at our [qualifying] performance, we were, in ideal terms, just about able to enter Q3.
"If you consider this, then the race is going to be difficult, particularly from where we start."
Mercedes has struggled all weekend despite making progress with the exhaust update package first raced in the Singapore Grand Prix after being trialled in last month's Magny-Cours young driver test.
Schumacher was downbeat about the possibility of Mercedes being more competitive in race trim with the improved car, which has struggled with tyre degradation on circuits with long-load, high-speed corners this year.
"Circumstances can change and it can move us forward in race conditions compared to qualifying conditions," said Schumacher.
"But I don't see it right now, to be quite honest.
"It's going to be a tough race."
Mercedes team principal Ross Brawn shares Schumacher's concerns about the race, particularly over tyre management.
But despite the team's lack of pace, with Schumacher's team-mate, Nico Rosberg, lining up 14th, he believes that there is some hope for the race.
"It will be difficult," said Brawn, when asked by AUTOSPORT about his hopes for the race.
"Most people were suffering blisters of various sorts so clearly the tyres are pretty stressed here and it's going to require a lot of managing.
"But equally that may give some opportunity.
"Occasionally we have safety cars here so circumstances might evolve. We have certainly got to race well if we are going to achieve a result."