IndyCar adds double-headers for 2013, plus Pocono and Houston
| | |
| --- | --- |
| By Matt Beer | Monday, October 1st 2012, 02:15 GMT |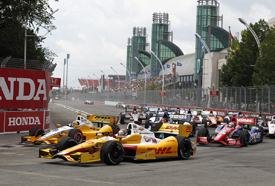 IndyCar's 2013 schedule will include three double-header events on street courses and returns to Pocono and Houston.
The series announced a 19-round calendar for next season on Sunday night.
That is an expansion of four races over 2012, despite the loss of Canadian venue Edmonton.
As widely rumoured, three events will see races on both Saturday and Sunday, with this format adopted for the Detroit, Toronto and Houston street courses.
Houston is making its first appearance on the schedule since the 2007 Champ Car season, while the Pocono oval was last used by America's top single-seater series when CART Indycar visited in 1989.
Pocono's 400-mile event on 7 July will form part of a revived Triple Crown, along with the Indianapolis 500 and the 500-mile Fontana season finale. A $1 million bonus is on offer for winning all three, or $250,000 for triumphing in two of the events.
The 2013 season will run for one month longer than the '12 schedule, which finished at Fontana a fortnight ago. The Californian oval, which will be the season's second night race along with Texas, moves back a month to 19 October, while Houston comes in on 5-6 October.
Series chief Randy Bernard said: "It is important to provide opportunities to generate additional exposure for our sport by expanding our racing schedule, and we feel that our 2013 schedule will certainly challenge the fastest, most versatile drivers in the world with a strong mix of ovals and road and street courses."
2013 IndyCar schedule:

24 March     St Petersburg (street)
7 April      Barber (road)
21 April     Long Beach (street)
5 May        Sao Paulo (street)
26 May       Indianapolis 500 (oval, triple crown)
1 June       Detroit (street)
2 June       Detroit (street)
8 June       Texas (oval, night)
15 June      Milwaukee (oval)
23 June      Iowa (oval)
7 July       Pocono (oval, triple crown)
13 July      Toronto (street)
14 July      Toronto (street)
4 August     Mid-Ohio (road)
25 August    Sonoma (road)
1 September  Baltimore (street)
5 October    Houston (street)
6 October    Houston (street)
19 October   Fontana (oval, night, triple crown)