Singapore GP: Mark Webber sure Red Bull can bounce back despite poor run of results
| | |
| --- | --- |
| By Pablo Elizalde and Jonathan Noble | Thursday, September 20th 2012, 12:35 GMT |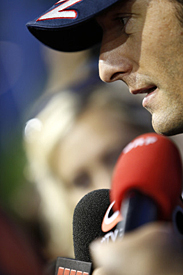 Mark Webber is in no doubt that Red Bull has a car capable of winning races in the final part of the season, despite its lacklustre form in recent grands prix.
Webber scored the team's most recent victory, at the British Grand Prix in July - his second of the year after he triumphed in Monaco.

Team-mate Sebastian Vettel, the defending world champion, has not won since the fourth round of the championship in Bahrain.
Webber is staying calm about the situation however, and while he does not expect Red Bull to return to a dominant position this year, he is convinced the team will be in a position to fight at the top in the remaining races.
"I think we have a long, long way to go," said Webber in Singapore. "No one is dominating at the moment, McLaren have done well, but no one is dominating anything.
"It is very, very tight. I would be surprised if in the next few races you have people just dominating.
"I am not sitting here saying that we are going to have a dominating car, but we will have a car that can challenge for wins and that is all we can ask for."
Webber concedes Red Bull has not been as competitive as it had hoped in recent events, but he also believes circumstances have played against his team.
"Two races were gearbox penalties, which doesn't help," he said. "I wasn't super comfortable in the last two races, particularly with the hard tyre, which is bizarre because normally I prefer that sort of stuff. This time I wasn't so strong on it. It is nip and tuck, but it is the fine lines [that make the difference].
"We win together as a team and we lose together as a team, but we have had some tough events in terms of performance. I suppose it is the realisation that when you don't get the results you want you push harder. Finishing eighth is not something that you want to accept, so you keep pushing and other things happen."
The Australian, now fifth in the standings, admitted that the alternator problems Renault has had are still a worry, but he has backed the manufacturer to work through the issues.
"It is a concern of course," he said. "The factory and everyone are working on getting more information and gathering what we can. We have had some DRS issues, a few gearbox penalties and bits and bobs, so we are constantly trying to improve.
"Renault has been great, they are working like hell, they are a very honest racing organisation and they are pushing very hard to work out what has cost us a few of the problems."