Jimmie Johnson says 2012 NASCAR Chase is wide open
| | |
| --- | --- |
| By Diego Mejia | Friday, September 14th 2012, 20:34 GMT |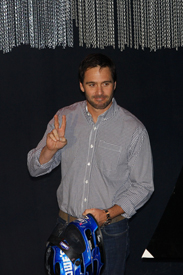 Jimmie Johnson believes it is hard to predict who will be strong in this year's Chase as momentum has shifted during the NASCAR Sprint Cup season.
The five-time champion has won three races during the regular season and starts the Chase as the second seed behind Joe Gibbs Racing's Denny Hamlin.
While Johnson has led the most laps during the regular season, Penske's Brad Keselowski has scored more points than anyone in the previous 10 weeks.
Hamlin has won two of the last three races, getting the jump on his Chase rivals in the standings with a fourth win, while Greg Biffle has been the most consistent all year long, scoring the most points thus far.
"I feel that my chances are good, but I think this year it's just very difficult to say who is going to be hot," said Johnson. "We have seen Hamlin hot over the last couple of weeks.
"We look at the stretch from Indy and the races that followed; there were a lot of people ready to hand me the trophy then.
"Now it's switched to Denny, prior to me it was someone else. Our chances are good; our odds are good, but just like in football or any other sport you have to go out there and play the game or run the race.
"That is where we are at. I do feel good about things. I feel that we are competitive and we have shown that late in the regular season and that is important moving forward."
Johnson believes his and Hendrick's previous Chase experience is his main strength. He expects felllow former champions to be his toughest rivals.
"It doesn't mean that we are going to win the championship, but experience has meant so much to me in my career and I've learned from my mistakes," said Johnson.
"I always put previous champions top of the list as a favourite to start off. With the five that we have and the core group that has been a part of all of that, that's helpful."
Johnson remains the driver with the most wins in Chase races, claiming 20 victories in play-off events. Reigning champion Tony Stewart is second in that ranking with 11 wins.