Greg Biffle confident of leading Roush Ford's NASCAR Sprint Cup title challenge
| | |
| --- | --- |
| By Diego Mejia | Thursday, August 30th 2012, 16:17 GMT |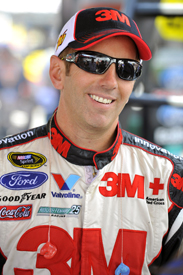 Greg Biffle is confident he will be in the thick of the NASCAR Sprint Cup title battle, having already secured a place in this year's Chase.
The Roush Fenway Ford driver has led the standings for 14 weeks this season - more than any other driver - and became the first to clinch a spot in the 2012 championship play-off following last weekend's race at Bristol.
Although he has one less victory than Jimmie Johnson, Brad Keselowski or Tony Stewart this year, Biffle has managed to finish every race. Dale Earnhardt Jr is the only other title challenger to have done the same.
Biffle's season-long consistency has left him confident of leading the team's title charge.
His team-mate Matt Kenseth is leaving Roush at the end of the year while Carl Edwards - last year's Cup runner-up - is currently outside the Chase spots.
"I feel like we have an opportunity to make a run at this Chase because even though we didn't win, we were off a little bit and finished top 10, top five and what not," said Biffle.
"That is a whole bunch of motivation for us going forward. That and the 10 race tracks that are in the Chase are ones we've run well at.
"There is only one that gives some trouble to us and that's Martinsville. We typically - even as a company - don't run that well at that track.
"But I do run better in the fall at Martinsville that I do in the spring for some reason.
"That is one that we are looking at but the other race tracks we are super-excited about - Kansas, Chicago, Texas and we run good at Dover, New Hampshire, Homestead and Phoenix. We are jacked up about these race tracks and how good our cars and team is right now.
"We potentially could win two or three of those races fairly easily and have strong finishes in the other ones and that quite frankly could be enough."
The Roush driver, who won the Truck Series title in 2000 and the Busch Series (now Nationwide) two years later, could become the first driver to win all three major NASCAR championships this season.
The closest he has come to a Cup title was back in 2005 when he finished runner up to Stewart.