Interlagos WEC: Alex Wurz gives Toyota its first pole
| | |
| --- | --- |
| By Gary Watkins | Friday, September 14th 2012, 19:04 GMT |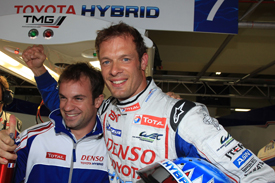 Toyota driver Alex Wurz snatched pole position for Saturday's Sao Paulo 6 Hours on his first flying lap of World Endurance Championship qualifying.
Wurz set a time of 1m22.871s aboard the solo TS030 Hybrid to claim pole from sportscar newcomer Lucas di Grassi in the Audi R18 ultra around the 2.68-mile Interlagos circuit.
The Austrian then shaved half a second from his time to record a 1m22.363s on his second lap to go nearly eight tenths clear at the head of the timesheets and give Toyota's current programme its first pole.
"I am very pleased to bring home this pole position," said Wurz, who share the TS030 with Nicolas Lapierre.
"We said at the beginning of this project that if in year one we could make a pole, it would be a dream.
"We are using new technology in a car made against the clock, so with this gap I am extremely happy."
Wurz dedicated his pole to ex-Formula 1 medical delegate Sid Watkins, who died earlier this week at the age of 84.
Third place went to the hybrid Audi R18 e-tron quattro driven by Andre Lotterer. The German was just under two tenths shy of his team-mate.
The fastest privateer LMP1 runner was Neel Jani in the Rebellion Lola-Toyota. The Swiss shaded Danny Watts in the Strakka HPD by just over a tenth.
Honours in the closely-fought LMP2 class went to Stephane Sarrazin in the Starworks HPD. His best lap of 1m27.048s compared with John Martin's second-place time of 1m27.153s in ADR Delta's ORECA-Nissan.
Aston Martin Racing claimed its first GTE Pro class pole. Darren Turner ended up two tenths quicker than Marc Lieb in the Felbermayr-Proton Porsche.
Enrique Bernoldi took GTE Am qualifying honours in the AF Corse/Waltrip Ferrari.
Pos  Cl     Drivers                         Team/Car                Time
 1.  P1     Wurz/Lapierre                   Toyota                  1m22.363s
 2.  P1     Kristensen/McNish/di Grassi     Audi ultra              1m23.147s
 3.  P1     Fassler/Lotterer/Treluyer       Audi e-tron             1m23.332s
 4.  P1     Prost/Jani                      Rebellion Lola-Toyota   1m23.962s
 5.  P1     Leventis/Watts/Kane             Strakka HPD             1m24.089s
 6.  P1     Belicchi/Primat                 Rebellion Lola-Toyota   1m24.179s
 7.  P1     Brabham/Chandhok/Dumbreck       JRM HPD                 1m24.320s
 8.  P2     Potolicchio/Dalziel/Sarrazin    Starworks HPD           1m27.048s
 9.  P2     Martin/Charouz/Graves           ADR-Delta ORECA-Nissan  1m27.153s
10.  P2     Panciatici/Ragues/Rusinov       Signatech ORECA-Nissan  1m27.167s
11.  P2     Baguette/Kraihamer/Brundle      OAK Morgan-Nissan       1m27.275s
12.  P2     Liuzzi/Rossiter/Weeda           Lotus Lola-Lotus        1m27.338s
13.  P2     Mailleux/Lombard/Tresson        Signatech ORECA-Nissan  1m27.452s
14.  P2     Zugel/Gonzalez/Julian           Greaves Zytek-Nissan    1m27.769s
15.  P2     Nicolet/Lahaye/Pla              OAK Morgan-Nissan       1m27.818s
16.  P2     Perez Companc/Minassian/Kaffer  Pecom ORECA-Nissan      1m27.968s
17.  P2     Holzer/Schultis/Moro            Lotus Lola-Lotus        1m28.958s
18.  P2     Giroix/Ihara/Deletraz           Gulf Lola-Nissan        1m30.871s
19.  GTE P  Mucke/Turner                    Aston Martin            1m33.855s
20.  GTE P  Lieb/Lietz                      Felbermayer Porsche     1m34.040s
21.  GTE P  Fisichella/Bruni                AF Ferrari              1m34.203s
22.  GTE P  Bertolini/Beretta               AF Ferrari              1m34.733s
23.  GTE A  Longo/Negrao/Bernoldi           AF-Waltrip Ferrari      1m34.781s
24.  GTE A  Krohn/Jonsson/Rugolo            Krohn Ferrari           1m35.401s
25.  GTE A  Ried/Roda/Ruberti               Felbermayr Porsche      1m35.485s
26.  GTE A  Bornhauser/Canal/Rees           Larbre Corvette         1m35.485s
27.  GTE A  Camathias/Palttala/Daniels      JWA Porsche             1m36.800s
28.  GTE A  Belloc/Bourret/Gibon            Larbre Corvette         1m38.792s